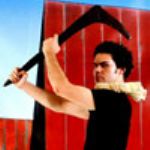 Deadly Vibe Issue 80 October 2003
Photographer and installation artist Christian Bumbarra Thompson grew up all over Australia " in Darwin, Wagga Wagga, Adelaide, Raymond Terrace, Oakey and Toowoomba.
"These communities were so diverse," says Christian, a Bidjara man whose mob comes from south-west Queensland. "I became really dissatisfied with the fact there was no consistent representation of Aboriginal people."
Ideas about contemporary Aboriginal culture often focused on the problems, he says, to the exclusion of everything else. "We were being represented as symptoms of society rather than as Indigenous people and as Australian people."
Christian grew up in an artistic family " his Barcaldine-based grandfather had painted with his fingers, his uncles and his dad engraved emu eggs, and his German-Jewish mother was a ceramicist " so it was little wonder Christian ended up studying sculpture and textiles at the University of Southern Queensland.
He then went to Melbourne to complete his honours at RMIT, and liked the southern city so much that he decided to stay.
Some of his work, such as that pictured on this page, is inspired by early colonial studio portraits that would show Aboriginal people dressed in Victorian garb against a backdrop of sweeping landscapes.
But because it's "not kosher to use images of people who are deceased", Christian decided to use himself and his friends as models for his series, which was shot against modern buildings such as the Australian Centre for Contemporary Art, the Melbourne Museum and Federation Square. He borrowed fibreglass replicas of weapons such as nulla nullas, clubs, shields and coolamons from the Koori Heritage Trust.
"There is an element of performance in my art," says Christian, who admits his frilly collar in the picture on this page is more "16th-century Elizabethan" than Victorian.
"But we are the next generation and we have had a totally different experience of colonisation."
That would explain why he was so nonplussed at the fact his Aboriginal nana owned tea towels and fine china decorated with pictures of Aboriginal men holding spears.
"When I asked her about them, she just said, quick as anything, "˜They're your cousins " they live in Aramac (a tiny town near Barcaldine)," Christian says, laughing.
(Story 1/10/2003 end)