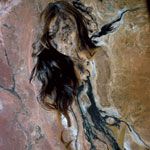 After establishing himself as one of Australia's premier photographers, Wayne Quilliam is ready to take on the world.
If you're not moving forward, you're moving backwards. After 15 years as a photographer and artist, Wayne Quilliam believes the secret to longevity in the highly competitive world of photography is constantly challenging and reinventing yourself an listening to your instincts.
It's these qualities that have seen Wayne become one of Australia's premier Indigenous photographers after he first began taking photos as 17 year-old while in the navy.
Since taking his first photographs as a 17-year-old., Wayne's career has enjoyed a steady ascent. Currently he's preparing to head off on a whirlwind tour of Germany, France, the US and Mexico with his latest exhibition, Lowanna.
Before this new exhibition heads overseas, it will be shown on Wayne's home soil, at the Boscia Gallery in Melbourne.
Wayne describes the new exhibition as a combination of landscapes, ceremonies and nudes, and is excited about bringing fresh point of views and approaches to Indigenous photography.
"Photography in Australia, especially Indigenous photography, has always been regarded more as social documentary," he says. "But now people are seeing a different side.
"I still love social documentary and it's extremely important, but in Europe and in the US they consider photography a true art form."
From handing in the occasional photo for the Koori Mail to holding exhibitions internationally, Wayne says the key to success in the industry is keeping things fresh, which means having the courage to try new things.
"You've got to make it more exciting for yourself," he says. "You've got to keep challenging yourself to try bigger and better things.
"Every single day I learn something new – it's not about technology, it's about finding new ways to express how you visualise things."
Working with other professionals in the industry also provides some major creative motivation, such as when Wayne recently joined forces with Russell Crowe to direct a shoot involving the South Sydney Rabbitohs at an old café setting in Melbourne.
"Yeah, I'm real flash now bud," he jokes.
As well as shooting countless locations around Australia, Wayne has also worked internationally, but takes the same ideology and attitudes wherever he travels.
"You should never assume," he says. "I think sometimes photographers assume that they've got the right to take anyone's photo.
"When I visit another country, I look at more than just the people and the architecture. I look at things like the way that they live and the way they interact with each other."
Throughout his career, one of Wayne's strengths has been the ability to switch quickly between photographic styles and genres. Recently he has been kept busy with fashion shoots – a new challenge, and one that he is relishing.
"Fashion is challenging because you've got a team of people you need to direct and there are a lot of egos in the room you have to deal with," Wayne says. "It's a lot more than just having a gorgeous model and a beautiful outfit – it's also the lighting, the atmosphere, and bringing a team together to get the final result."
Having been completely self-taught, Wayne brings a unique perspective to his work.
"Whether I'm photographing the Prime Minister or I'm out in the desert with a mob sitting down under a tree, I can find a way to be able to be in the moment to get the shot," he explains. "I'm not invasive, I'm not overbearing. I'm just a part of the environment."
But Wayne also believes that instinct is incredible important – something which can't be taught or learnt.
"One of the skills I have and which I've developed over the years is being able to walk into a room and feel the environment I'm in," he says. "This is all about instinct."
With Australia producing a long line of acclaimed and talented Indigenous photographers, Wayne believes that it the ability to provide a unique point of view that provides Indigenous photographers with their artistic strengths.
"I think that our unique ability is being able to absorb what's around us," he says.