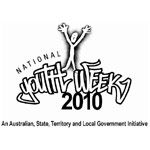 Aboriginal and Torres Strait Islander young people are stepping up and making their mark on Australia's week-long celebration of all things youth – National Youth Week.
Run by youth, for youth, it has been planned in part by our very own Indigenous representative, Lucy Deemal.
"Mid-last year the volunteer role of Indigenous Representative on the National Planning Group for Youth Week was advertised. I filled out the application and was given the position in August. It's been a great opportunity and if you're thinking about giving it a go this year, it's definitely worth it!" says Lucy.
Each year 10 people aged 12-25 are selected as young members to help make decisions about how National Youth Week operates and Lucy says it would be great to see even more Indigenous young people getting involved from the ground up.
"I thought it would be a good chance to get involved in something fun and positive for youth. I've been to a few Youth Week events over the years and I've always thought it was a great idea," Lucy says. "I would love to see more Indigenous young people involved in Youth Week, both with events and planning.
"There's also nothing stopping young Indigenous people from applying for the mainstream positions on the National Planning Group, as well as applying for the Indigenous Representative position.
One of the largest celebrations of young people on the Australian calendar, National Youth Week offers the opportunity to take part in dance parties, forums, skate competitions and concerts around the country.
The theme of this year's National Youth Week is 'Live It Now!' and events will roll out from April 10 to 18, with national launch events being held in Parramatta, NSW, and Victor Harbor, SA.
There are plenty of ways to strut your stuff and show the rest of Australia how deadly you are during National Youth Week, including entering the National Talent Competition, which covers filmmaking, graphic design, photography, music and writing.
For more information about how you and your mob can get involved, visit www.youthweek.com.