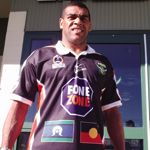 Deadly Vibe Issue 91 September 2004
Raiders look deadly
While the AFL has the Marn Grook Trophy and the pre-season Aboriginal trial match, the NRL is following suit with its own way of celebrating Indigenous involvement in the sport. And leading the way are the Canberra Raiders.
As part of reconciliation celebrations, the Raiders ran out wearing Indigenous-styled jerseys in their round 24 clash against the Roosters to commemorate Indigenous contribution to the sport.
The Raiders have a proud history of Indigenous players, and their all-time Indigenous team was also announced on the day.
The team was captained by Laurie Daley, and boasted other legendary names such as John 'Chicka' Ferguson, Sam Backo and Ken Nagas.
In recent seasons, the Raiders have proved themselves strong supporters of the Indigenous community. Last year, they painted a large Aboriginal flag on the Bruce Stadium turf for a televised match as a gesture of reconciliation. They also invited many young Indigenous people from the area to the game.
One of the driving forces behind the Indigenous jersey was former Raiders star Paul Osborne, who explains that the concept was hatched more than a year ago.
"The two main reasons for wearing the jersey were to thank the Indigenous contribution over the years to the club and the league," says Paul.
"Secondly, we wanted to send a message to young Indigenous people that they are appreciated and that anything is possible."
All proceeds from the sale of the jersey will go toward a local Indigenous community organisation fostering rugby league and Indigenous participation in the Canberra region.
(Story 1/9/2004 end)