There was a sense of intrigue, excitement and emotion in the room as Deadly Vibe arrived at the inaugural and historic Australian Indigenous Fashion Week.
The event is being hosted by SBS Living Black's Karla Grant, wearing sky-high stilettos and a beautifully printed dress.
"It's a great honour to be at Australian Indigenous Fashion Week's (AIFW) showcase, which is presented by the Australian Indigenous Design Initiative (AIDI)," she says.
AIDI is a newly established not for profit organization which showcases Aboriginal and Torres Strait Islander artists and fashion designers.
Founder of AIFW, Krystal Perkins, was next to speak, calling upon support from the fashion industry for Indigenous design.
Krystal also spoke about the early development stages of AIFW. After reading an interview with Samantha Harris in a magazine, she went into CHIC Model Management to convince them why Australia's first Indigenous supermodel should be the ambassador for the event.
She was met at first with apprehension from the agency who wondered, 'do you really expect people will wear possum fur or kangaroo skin'?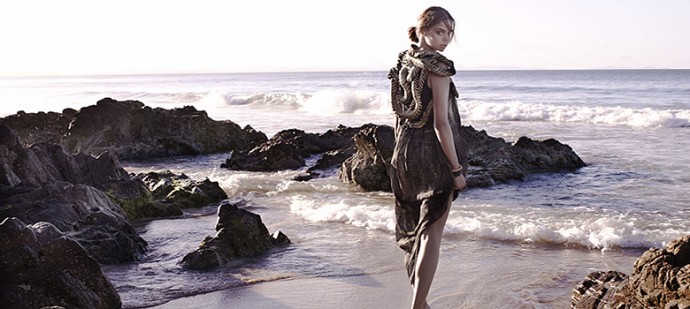 "Yes they will, because our people have been doing it for 30,000 years," was her response.
Samantha is one of the headliners at AIFW and was very excited to be part of the event, earlier stating that it's something that would never have happened in her mother's time.
The day is set to be jam-packed with industry events before the industry runway just after midday and two consumer runway shows later this evening.
Students from Whitehouse School of Design which produces some of the country's most successful designers in Fashion Design, have also been encouraged to attend.
The design forum kicked off with some words on Indigenous design from interior designer and self proclaimed 'concrete Koori' Alison Page.
"Sustainability is inherent in our design… It's a must have. It's how we teach our young how to nurture our rivers. Story builds preciousness into objects," she says.
"It becomes something we want to pass onto future generations. Story is about sustainability… Some people call it the slow design movement – I call it Aboriginal design. Social justice for our people is economic independence."
Follow our Storify below to watch the day's events as they unfold.