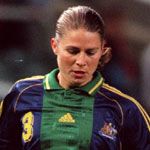 Bridgette Starr was first selected into the Australian Women's Soccer team in September 1994 for the one-off test match in Japan. She was 18 years old. Bridgette was first named in the national squad at 16 years of age.
Bridgette competed in the Oceania World Cup qualifiers in October 1994 in Papua New Guinea, and in the United States Women's Cup in e following month.
Bridgette was selected as one of the 20 national squad players to take a full-time residential scholarship at the Australian Institute of Sport Canberra for 1998, 1999 and early 2000.
She scored her first international goal in the must-win final of the Oceania World Cup qualifiers in October 1998.
Bridgette was a member of the Australian team for the 1999 World Cup d also a member of the Australian Youth Team which won the 1993 Dana Cup in Denmark; Australian Youth Team tour to New Zealand 1994.
She is a cool defender, powerful in the tackle and strong in the air. She is calm under pressure, confidant on the ball, with good distribution skills.
Bridgette won the 1999/2000 Ansett Summer Series national league le as a member of the NSW Sapphires. She also won the 1997, National Senior Championship as a member of the Northern NSW State Team.
Name:
Bridgette Louise Starr

Date of Birth:
December 10 1975

Height:
173 cm

Weight:
65 kg

Place of Birth and Residence:
Tamworth NSW I Newcastle NSW

Event:
Soccer

Competition Dates:
13-28 September

Venue:
Sydney Football Stadium, Melbourne Cricket Ground, Canberra's Bruce Stadium
Deadly Vibe Issue 52 June 2002
Starr – Bright
This month Deadly Vibe caught up with Australian soccer sensation, Bridgette Starr, who, during the last eight years has played at the most elite level.
Deadly Vibe asks her about the Sydney 2000 Olympic Games, life at the Australian Institute of Sport (AIS) and her road to success. To find out what she says, read on.
The 2003 FIFA Women's World Cup in China looms closer. It is a huge event. In the meantime Bridgette Starr is lacing up her boots for another season with the Matilda's. She's reflective about her achievements and excited about the future. Deadly Vibe is a real fan.
Bridgette's dream to play soccer began when she was 13 years old back in her central New South Wales home town of North Rothbury. She says never thought in her wildest dreams did she think signing up for the all boys team Branxton- Greta would make such a difference to her life. But it did.
Bridgette's skills sky rocketed as a result of playing soccer with the boys and five years down the track, in 1994 Bridgette made her debut for Australia playing in a one-off test match against Japan, in a match she counts as one of the biggest matches of her life.
"I never expected what I saw when I ran out on to the field in front of
40 000 screaming Japanese fans," Bridgette says.
"The atmosphere was electric, and I couldn't believe I was representing my country," she adds.
" I knew it was an important match so I went out onto the field telling myself I wouldn't let anybody get past me."
Bridgette so impressed the Australian selectors that she retained her position in the side and went on to compete in the Oceania World Cup the following month in Papua New Guinea. From there, Bridgette went on to the USA to play in a series of matches. Bridgette was 18 years old.
"I remember being so excited that I was travelling around the world at such a young age," Bridgette says.
Soon after, however, Bridgette was dropped from the Australian team, and was devastated. The Australian selectors said Bridgette needed time to work on her skills and mature. She took their advice and trained hard. Before long Bridgette found herself back in the Australian squad.
In 1998 Bridgette was given a scholarship as a full time member at the Australian Institute of Sport in Canberra. Later that year was selected to play in the World Cup qualifier match against New Zealand.
Fast-forward – year 2000, a hot season for Bridgette. She was, you see, a key member of The Matilda's, playing their first ever Olympics. All eyes were waltzing Matilda. To ensure a big "oi" at Sydney 2000, Bridgette and the other Matildas based themselves at the AIS in Canberra for 12 months undergoing intense training to prepare for the worlds best.
While the Matildas didn't win a medal in their debut year, they played some great soccer. And yes, Bridgette was a star.
Bridgette has now just returned from America where she competed in a national indoor-soccer competition for the "All-Stars".
So all in all it has been a big couple of years for Bridgette, whose looking forward to taking time out to relax real soon. If you could call it relaxing that is.
" I've just bought a new BMX bike and have been riding around Canberra. I keep fit by jogging, taking my two dogs for walks and doing weights twice a week."
Deadly Vibe wishes Bridgette the best as she gets ready to do it all again in China's next soccer World Cup. She's a strong and talented player and we say she'll represent Australia for a long time to come!
(story /6/2001 end)