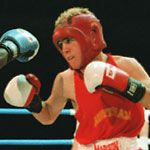 Deadly Vibe Issue 92 October 2004
Bradley Hore, boxing, 51kg division
Bradley won the 51kg flyweight national title in 2000 and qualified for the boxing team for the Sydney Olympics when he was just 18 years old. But in a cruel twist of fate, a sudden growth spurt saw him fail to make the weight in order to compete. His physique has been described as "lighter than most jockeys but tougher than many footballers".
In 2002, Bradley won his first national title in 1996, and repeated the feat in 2000.
He competed at the 2002 Commonwealth Games in Manchester, but lost his first-round bout. However, he went on to become the 2004 Australian and Oceania champion in the light flyweight division.
His second shot at Olympic glory was a moment to remember for this 22-year-old from Sydney's western suburbs, and he managed to make it through to the final 16 before being defeated by American Ron Siler 32-18.
(Story 1/10/2004 end)
Eighteen-year-old Bradley Hore is described as being lighter than most jockeys but tougher than many footballers.
The apprentice locksmith from Girraween in NSW has competed in 65 fights in his boxing career to date, and had 35 wins and 30 losses.
The light-fly weight won his first National title in 1996, and then again in 2000. He is the current Oceania champion.
Bradley comes from a family of X and started boxing because…
Bradley is looking forward to competing at these years 2000 Olympic games.
"It hasn't hit me yet, but it seemed to hit the family – they're all crying."
Deadly Vibe Issue 64 June 2002
BRADLEY HORE: SUPERFLY GUY
He might weigh just 51kg, but 2002 Australian and Oceania flyweight champion Bradley Hore is no small fry in the ring.
"I'm a fast-moving southpaw!" says the affable boxer down the line from Maroochydore, where he's in training for Manchester with his best mate (and current Australian bantamweight champion) Justine Kane.
Born in Blacktown and raised in Girraween, Bradley was introduced to the sport by his father at age 10.
"I was always the smallest kid and a bit of a smart-arse," he laughs. "I used to play footy, but everyone was getting bigger than me and I ended up breaking my leg. So I just kept boxing."
It took him a while to find his fighting gloves. "After losing my first nine fights I thought, 'I shouldn't be in this sport'. But my coach always said that I would make the Commonwealth Games in 2002. So I just kept trying."
Now 20, Bradley has some 75 bouts under his belt, of which he's won around 45. Having already been selected for the Sydney 2000 Olympic Games, Manchester shouldn't be too much of a push for this feisty little fulla who nominates Lionel Rose and Kostya Tszyu as his boxing heroes.
"Daniel Geale and Justin and I all went to the Olympics and we made a pact that we'd make it to the Commonwealth Games too. So that's why I'm up here with Justin, training with our coach Mike Foley."
That means two and a half hours of sparring, pad work, sprints and jogs every day. What they don't need to worry about is pushing weights – Bradley and Justin's day job is concreting, which involves a considerable amount of lifting.
"Mike's our boss and he owns a concreting business. If we don't turn up for work he won't let us in the gym, and if we don't go to gym we can't work!"
As far as coach Foley is concerned, Bradley is destined for big things. "He's a very clever boxer with good technique and I think he's a strong medal contender. Brad's a real likeable kid who gets on with everyone."
But before Manchester there's the World Cup in June to contend with. Destination? Kazakhstan! Yikes – isn't that near Bin Laden territory?
"Yeah, it's up near Russia. Hopefully we won't be flying over Afghanistan. I don't want to get shot down."
Right now, though, Bradley's got a big hurdle to overcome in that he's just had his appendix out. (Talk about timing!) That said, if this mean machine can't recover in time to knock the socks off flyweight contenders everywhere, then our name isn't deadly.
"I want a medal in Manchester," in a voice that can only be described as deadly…serious. "I don't care what colour."
Would he ever consider turning pro?
"I'll think about that after Athens. I'm not sure about fighting for money. I'm only doing this because I love the sport. I never thought I'd get this far anyway."

(Story 1/6/2002 end)