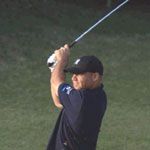 The Hard Way
You can't keep a good man down " just look at Brad Hardman, a young golfer who has overcome tremendous hardship to chase his dream of becoming the world's best, one shot at a time.
Brad Hardman was always a natural sportsman. He was an avid rugby league player and also took up amateur boxing as a youngster.
So when Brad was in a serious car accident and lost his leg at the age of 15, the prospect of never being able play the sports he loved again was a bitter pill to swallow. While he survive d t he accident, for Brad it seeme d t he chance for a happy and fulfilled life had passed him by.
But skip forward 10 years and Brad is going strong. He's swapped footy boots and gloves for golf clubs and is now the only registered Indigenous amputee golfer in Australia.
Brad grew up in Windsor in regional NSW. After moving to Sydney in 2005, he met fellow amputee golfer Jeff Nicholas who introduced Brad to competitive golf, quickly became his mentor
"I met Jeff just by chance really," says Brad, "I just typed in amputee golf one time on the computer which took me to a website. That's how we got in contact an d t hat's when I took up the sport."
Brad's first tournament was the 2005 NSW Amputee Open and more recently he travelle d t o Japan where he finishe d t hird at the Japan Open Golf Championships for disabled people " quite an achievement considering he only took up the sport two years ago.
"I always try hard but I didn't expect to do so well," Brad admits. "I just wante d t o go over and get my first international tournament out of the way and gain some experience.
"The first round I didn't go too well. I was near the bottom but then I came back in the second round which put me up in third spot. If I'd had a bit more preparation it would have been a lot easier."
Brad's finish at the tournament becomes all the more impressive when you consider that he was both the youngest and most inexperienced golfer in the field.
"Some of the golfers I competed against have been playing for 20 or 30 years, so to have only played for two years an d t o finish third was great," Brad says. "Even Jeff couldn't believe it!
"The American who finished in front of me only beat me by two shots and he's off one handicap and has been playing for 30 years."
After tasting success in international competition, Brad is now hungry for more. There are plenty of tournaments on the horizon, including the US and British Opens as well as tournaments in South Africa, Singapore and Korea.
And while Brad also has the Australian Open coming up in March, his biggest challenge at present lies off the fairway.
"Since moving to Sydney I haven't been able to get a membership which makes things really difficult," he says. "I'm hoping to get one at the Lakes Golf Club but it doesn't come cheap, an d t hen there are all the travel expenses, so I'm still hoping to find some sponsors.
"Once I get my membership I can go and practice there everyday, and a lot more opportunities will come along."
In the meantime Brad spends as much time as possible at the driving range, perfecting his swing. He is also studying to be a youth worker and he drives a shuttle bus late at night in Sydney's South Eastern suburbs, picking up young Indigenous kids from streets and parties and helping them to get home safely.
"Golf gave me a new life," Brad says. "I've always been a sportsman but just couldn't pick a sport after the accident, which is a big reason why it was so difficult. But then I found golf and I thought, "˜here's something to do, and I can travel the world as well'.
"I like the sport an d t hat's the main thing " I don't mind going out there and practicing. It's good for Indigenous kids out there to see what I'm doing too, because you only really see football players " there aren't many Aboriginal golfers."
Brad's move into golf has also coincided with another major life changing experience " the birth of his daughter Tamika.
"For a long time I didn't cope after the accident," Brad admits. "I was drinking and I went through a long depression. It's been 10 years, but when I knew that I was going to have a daughter I starte d t o think I should do something about my life and get out of the habit of just drinking all the time.
"So I pulled into line and started playing golf an d t hat's when I met Jeff. He's travelle d t he world; he's won 12 World Championships in a row and if he can do it I can do it too.
Now that Brad has got his start in golf he's aiming for the top and, in his young daughter Tamika, Brad has all the motivation he needs.
"I want to compete in every tournament that comes up," he says. "I want to beat the best out there and be number one in the world " that's what I'm aiming for.
"I think that if I can do something in my life it might help my daughter as she grows up, so I'm doing this to maker her life better as well."
While he may be a late starter, at 25 Brad is still only a baby in the sport and has plenty of time and improvement ahead of him. Where once a brick wall had been placed in front of anything he could enjoy or achieve in life, a whole new word of opportunities has now opened up.
"When you get out on the golf course nothing else matters but hitting the ball," Brad says. "Anything could happen in my life but when I'm out there, I'm just free."