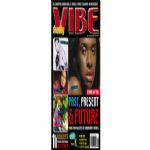 Story: NAIDOC Magic
From the beginning of July, NAIDOC celebrations kicked off around the nation. In every community families, schools and various organisations were celebrating NAIDOC in their own special way.
Down in the Lake Illawarra region of New South Wales, Indigenous students from local high schools have come together over the past three years to celebrate NAIDOC with a Koori touch football knockout that brings together friends and family from the large south coast Indigenous community.
This year, the knockout was held at Warilla High School. The Vibe crew travelled down from Sydney to join in the festivities and to present an award to a gifted young student.
The Vibe School My Story Competition receives hundreds of entires from around the nation every term, but out of the many entires in the secondary group over terms three and four last year, 14-year-old Daniel Merritt's entry about NAIDOC Week stood out the from the rest
As a reward for his great story, Daniel received a gift pack which was presented to him by former Sydney Kings coach and Black Diamond Claude Williams as his friends and classmates looked on.
The Vibe My Story competition promotes and encourages reading and literacy among Indigenous youth. In his speech, Claude emphasised the importance of staying in school and gaining an education.
The Lake Illawarra Koori touch football knockout is now in its fourth year, and involves five surrounding high schools including Lake Illawarra High, Warilla High School, Illawarra Sports High, Kanahooka High School, Oak Flats High School and Albion Park High School.
"This is the one thing that our kids look forward to," says Denise Willis, a local Aboriginal Education Assistant and organiser of the event. "Once it finishes they are asking us straight away when the next one is going to be.
There's a great spirit here with all the families coming together. The young people get the opportunity to celebrate their culture and their language, which is so important."
Local man Colin Markham, former Member of Parliament and co-chair of the NSW Reconciliation Council was also in attendance. He congratulated the young people on their enthusiasm for celebrating NAIDOC and emphasised the importance of their actions.
"Young Aboriginal people coming together in a sense of spirit and in a sense of competition is very important," he told the assembled crowd. "They pit their skills against each other and they enjoy it. It's a fun time and they are celebrating a very important part of their year, NAIDOC week.