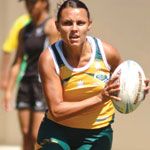 Top of the World
She's a two-time word champion and one of the world's elite touch football players. Deadly Vibe catches up with the Bo de la Cruz to talk football, life and respect.
In sport, four years can be an eternity, and many sporting careers have sparked and then fizzled out in much less.
Back in 2002, a 22-year-old newcomer to the Australian women's touch football team called Bo de la Cruz blew the international competition away with her pace and playmaking skills at the World Cup in Japan. By the end of the tournament, she had been named Most Valuable Player.
Skip forward to 2007 and Bo was off to South Africa for her second World Cup, this time a more experienced and mature player.
Her appearance in South Africa capped a tumultuous four years; and while Japan was all about the experience, South Africa was about proving herself.
"Some people say that I'm not the same player that I use to be," Bo says. "But then I have people say I've changed my game a lot and that I'm better because of it.
"I didn't know how to take that, but at the World Cup I just got stuck in there and really wanted to prove everybody wrong."
After Japan, Bo left behind family and friends in Darwin to further her footballing aspirations in Sydney. She went on to excel in both the Sydney competition as well as the country's top national tournaments before suffering a career-threatening injury. So for Bo, Australia's recent World Championship victory in South Africa was a major achievement and just reward for what she has overcome since her spectacular debut on the international stage.
"We were just so zoned into winning that game that nothing else mattered," Bo says. "Everyone was on the same level " no-one was tired, no-one had sore legs, everyone was just so focused. I think a lot of that was because a lot of the girls who I've played with for a long time were retiring after the tournament, as well as the fact that we're Australia, and we've never lost a grand final or a series, and we're not about to.
"Knowing it could be my last World Cup is pretty sad, but it was one of the best wins I've ever been involved with."
Held between the January 12 to 24 this year, the tournament took place in the town of Stellenbosch, located 60km outside of Cape Town on the West Coast of South Africa.
"South Africa was awesome," Bo says. "I had a great time there. It was a big culture shock for a lot of people, which I was actually expecting. It really makes you feel grateful to live in Australia."
While she was only in the country for a short time, Bo had the opportunity to visit the famous Table Mountain in the centre of Cape Town. She also got the chance to go on safari, where she experienced all the great food and culture of the South African people.
"It was just great being in a different country and seeing a different culture other than my own," she says. "Seeing the ways in which they are a lot different to us " their language, of course, and just having that real traditional culture around you was awesome."
Coming up against their arch rivals New Zealand in the Grand Final, the Australians exacted sweet revenge for their first-ever defeat which came at the hands of the Kiwis in last year's All Nations tournament.
"I think at the All Nations last year we gave the Kiwis a bit of a sniff and they came out quite cocky," she says. "I didn't play in the All Nations because of my knee injury, but we were really fit and ready for them this year. I mean, we beat them 9-3 in the Grand Final, and again I think that's because a lot of the girls were retiring, so we really got suck into them."
Since the spectacular start to her international career and move to Sydney, Bo has learned some hard lessons and has had to face some harsh realities. This caused her to address the ways in which she approached and prepared for the game both physically and mentally.
"Although I'm getting older, I'm getting a lot fitter, but that's because I'm having to work twice as hard as what I used to," she says.
"I've lost a lot more weight, and being lighter really does help, although my speed is still pretty much the same. As you get older you start to think you've got to make the most of every year you've got left, and that's what I'm doing at the moment.
"I think when I was younger I took advantage of it too much. I thought, I don't need to be that fit because I've got this and that. I could fall back on my natural ability and the fact I was young, but eventually things begin to take a toll on your body."
For Bo, that realisation came at a heavy price at one of the most inopportune times. In late 2005, just two weeks before she was due to fly out with the Australian squad to compete in the All-National tournament in New Zealand, she suffered a serious in jury to her right knee while playing for Western Suburbs.
"That was really tough," Bo admits. "And not having my family around me at the time made it a really hard load to carry."
While she was unable to play, Bo made the trip to support the team and was forced to watch from the sidelines as the Australians lost their first-ever match. For a person who had lived and breathed touch football for over a decade, not being able to compete was a debilitating blow.
"We only just lost in a drop-off 4-3," she says. "But to sit there and watch it happen when you want to be out there and knowing you could contribute? I wouldn't wish that on my worst enemy " it's the worst feeling ever.
"I was in and out of depression and wanting to go home. I hated the world. But then I heard about the Lance Armstrong book It's Not About the Bike. I started reading it and to see what he has overcome made my injury look like nothing in comparison. It was really inspirational for me."
With the frustration of missing the All Nations providing plenty of motivation, Bo was back on the field playing in the Nationals with the Barbarians just five weeks after the second operation on her knee.
"It really pays off when you work hard for somebody else and for the team because they've really got your back when you need them the most," she says. "That's what happened with the Barbarians at the Nationals.
"My knee was pretty bad and swelling after every game, but the girls on either side of me on the field had my back the whole time " you couldn't ask for more."
Bo's passion for the game continues to grow. As well as success with the Barbarians, in 2006 Bo also helped her Sydney club side Western Suburbs into the Grand Final.
"I love it even more," she says. "I'm a touch head, even though I hate to admit it!
"You know, it kills me when I see people disrespect the game and say things about us not getting paid. I mean, if you watch the game at the top level it's amazing, and I think its not going anywhere but up.
"I definitely think its time we got some respect though. The Australia women's open team is the most successful Australia women's sporting team in the world, so come on media and sponsors give us a break! We've never lost a World Cup, we've never lost a series, we've only ever lost one game since Australia starting representing in touch!"
Now aged 26, Bo has no intention of leaving the game just yet. She now has her sights set firmly on the 2011 World Cup in Scotland.
"You're only as old as you feel, and I feel great," she says. "I don't take life for granted any more, and as you get older you start to understand where people are coming from when they tell you to take advantage of your opportunities and to take advantage of being young.
"I think I've matured in that way as a person and as an athlete, and still being the only Indigenous person in the Australian team makes me a role model for my people which is very important to me."