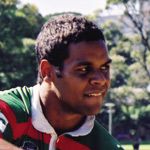 Deadly Vibe Issue 87 May 2004
Sydneysider Beau Mundine was playing 'muck around' footy in the park years before he finally got serious about following in the footsteps of a famous cousin and uncle and tackling the big time.
"I grew up in the Redfern/Waterloo area and always played footy with mates at the park but I never took it seriously until I was around 19 when my daughter was born," says Beau.
While he may not have been serious about footy, there were two family members who constantly pushed Beau to pursue a football career – his cousin Anthony Mundine and Uncle Rod Silver, both former rugby league stars.
"Choc and my uncle were always telling me that I was just wasting my time playing in the park and that I should commit myself and have a go," says Bo.
"They have both had a big influence on me.
"Choc is always getting in my ear and motivating me. Sometimes it's hard to stay motivated these days, but I train with him and he keeps me focused."
After making his debut for the Rabbitohs premier league side in 2002, Beau hasn't looked back. Beginning his professional career in the second row, he now plays in centres where his size and pace is best utilised. So far this season, the Bunnies' premier league side has gone from strength to strength, racking up some impressive victories.
"It's had its ups and downs," says Beau of his two years at Souths.
"But it's been good to come into a place where I've been a local junior and pick up the culture.
"And nothing beats running out in front of a big crowd and scoring some tries."
At only 23, Beau has plenty of time ahead of him to continue his meteoric rise from park prodigy to professional, and pushing him all the way is some of the best motivation he could find.
"Right now, I'm just focused on establishing myself as a regular first-grade footballer and earning an income to provide for my daughter to give her a good start in life," he says.
With plenty to play for and talent to burn, Beau Mundine is certainly one young Indigenous footballer to watch.
(Story 1/5/2004 end.)