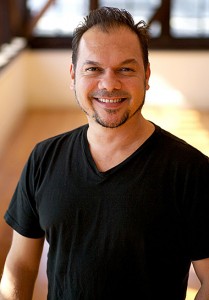 The totally talented artistic director of Bangarra dance theatre, Stephen Page, has dedicated more than the last ten years of this life to cultivating a new and totally individual style of contemporary Australian dance.
His style encapsulates the essence and spirituality of Australia's Indigenous cultures.
Stephen has a unique style that combines both traditional and contemporary dance into a staged spectacular.
Stephen was born in Brisbane and is a descendant of the Munaldjali Clan of the Yugambeh tribe from southeast Queensland.
He graduated from the National Aboriginal Islander Skills Development association (NAISDA) in 1983, formed Bangarra in 1992, with the dream of an Aboriginal dance company which fused modern dance with traditional Aboriginal forms.
Stephen joined Bangarra Dance Theatre as Principal Choreographer in September 1991 when he choreographed Up Until Now.
At the end of 1991 Stephen was appointed Artistic Director of Bangarra Dance Theatre and in 1992 he choreographed and directed Bangarra's first full-length work, Praying Mantis Dreaming, heralded by critics as a milestone achievement.
The works Stephen has created for Bangarra have toured nationally and internationally to Indonesia, China, Hong Kong, USA and England.
Stephen choreographed and directed Bangarra's second major work Ninni, featuring Rachel Mazza, who for our Deadly Vibe regulars, we featured last month.
Ochres was the next piece he produced with the assistance of Bernadette Walong. Ochres toured Australia, Berlin, Tokyo, Noumea, Indonesia and India with widespread acclaim.
In 1996 Stephen made his debut with the Australian Ballet, choreographing Alchemy and, also recently won the Green Room Award for the best Direction in Dance from rites which premiered at the Melbourne International Festival.
As part of The Festival of Dreaming, the first of four Olympic Arts Festivals, Stephen produced Fish, which performed at Sydney's Opera House. Fish is about to go on stage again for all you Bangarra fans who might have missed that limited season.
Stephen will no doubt be creating some more award winning pieces and when the Olympics open here in Sydney in the year 2000. There is no doubt that Stephen will marvel us in some way. But we will have to wait a few years for these particular creations.