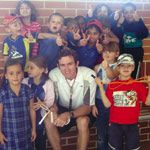 Homework is one of the necessary evils of being a student. You need to do your homework to keep up to date with school subjects so that you don't fall behind in your learning.
If you live somewhere that's kind of noisy or crowded, or you don't have the things you need to do your school work, then getting your homework done can be pretty hard.
Homework centres are set up by the Government under the Aboriginal Tutorial Assistance Scheme (ATAS) to provide facilities and supervision so that people like you – Indigenous primary and secondary school students – can complete their homework and school assignments. They can also offer tutoring to anyone who is having problems with a particular subject.
Kerry Bollen has been a primary school teacher for 39 years, and at Kempsey West Public School she has been involved with running the homework centre for more than a decade.
"We have four teachers and one Aboriginal Education Assistant (AEA) who work at the Homework Centre, assisting students with things such as homework, researching projects, writing essays and remedial work with literacy and numeracy," says Kerry.
"The purpose of the homework centre is to assist students with their work, encouraging them to get into the habit of doing it and providing a supportive environment for them to do their school work," says Kerry.
About 60 students use the Kempsey West homework centre two days a week.
Students head straight over to the centre after school and receive an afternoon snack. They then get stuck into their homework or other school-related tasks for an hour and a half before being shuttled home on a supervised bus.
"We don't have any behavioural problems at the homework centre," says Kerry. "We make sure that there is a very friendly and casual atmosphere and I think that helps."
When asked why she thinks the homework centre has proven so popular among young students at West Kempsey, Kerry puts it down to the students feeling comfortable around their peers and the friendly and caring teaching staff.
"Because the majority of the students at the homework centre are Indigenous and are friends, they tend to feel less embarrassed about their shortcomings and or in asking for help," says Kerry.
"It's almost like an after-school club for some of the children and we give them incentives and rewards for completing different tasks. The staff are all very empathetic towards the kids and they are all faces that the children know well."
Homework centres usually operate on school premises, but if there is no suitable space at the school, they can be set up elsewhere, like in a community hall or a building owned by an Indigenous organisation.
"Coming to the homework centre really benefits the children because they are doing something after school on their own, which helps them to become more independent and also helps develop different personal skills," says Kerry. "It's definitely much more than just homework."
Does your school have a homework centre? If it doesn't, you can ask your school to contact the Department of Education, Science and Training to see if one can be set up.