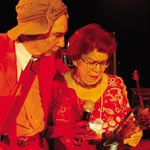 Deadly Vibe Issue 96 February 2005
A Special Tribute
One of the diamonds of Aboriginal country was honoured at this year's Aboriginal Showcase.
Last year's Town Hall Aboriginal Showcase Concert was memorable for many reasons, not least because a lightning strike caused a power failure.
Although country music legend Gus Williams ended up receiving his special trophy for his commitment and support to the Indigenous country music industry from Slim Dusty's wife Joy McKean in the dark, the high level of emotion in the room was clearly visible.
It was a case of tears and applause again this year, as the Aboriginal Showcase honoured Auriel Andrews.
Auriel, who has been in the country music business for over 25 years, has performed for the likes of Pope John Paul II and has featured in film and television.
Born in Darwin and the youngest of seven children, Auriel got her first break singing at a tin shack in Cooper Pedy known as The Italian Club.
She made her television debut on Channel Seven's Johnny Mack Show in 1969, and also performed on Channel Nine's Reg Lindsay Show and Ernie Sigley Show.
When the Pope visited Australia in the 1980s, Auriel performed Amazing Grace for the pontiff as he met and greeted residents of Alice Springs.
She has also acted in A Country Pratice, Blue Heelers, Heartland and the feature film Bedevil. She was also featured in the documentary Buried Country, a look at Indigenous country music through the years, in March 2000.
Special guest Chad Morgan, one of Australia's most beloved country comedy stars, presented Auriel with her award. A host of Indigenous country music legends who have contributed to Auriel's success also performed, including Vic Simms, Roger Knox, Col Hardy, Bobby McLeod, Rozz Webb, Herb Laughton and last year's honouree, Gus Williams
(story 1/2/2005 end)