Yothu Yindi was anything but quiet in 1997 with the release of their long awaited album Birrkuta – Wild Honey.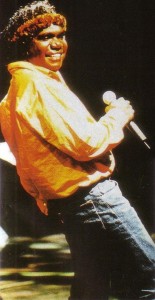 And with a new album comes the huge promotional circuit and of course the big tours.
That was just what we got in 1997; a refocus on one of Australia's best known and most loved bands.
Mandawuy Yununpingu, lead vocalist of Yothu Yindi spoke to Deadly Vibe about his music, the album and some plans for the future.
Birrkuta (Wild Honey) was recorded using digital recording equipment that Yothu Yindi bought themselves.
Normally bands  can only spend limited time in recording studios . But having their own equipment meant that Yothu Yindi were able to spend as much time as they needed to make their music, giving much more creative freedom. This openness is very apparent in the album.
"The band had more control in the creativity because we were able to control our time and space the way we wanted, so we weren't pushed into doing things we didn't' want to. We did things at our own pace."
As well as the local content in the album comes some international exchanges.
Two of the tracks were co-written and co-produced with Andrew Ferris from INXS. We did some of it in Australia and some of it was done in England. Every time we did something we were able to courier it to Andrew in England and he was able to make it into a track.
"Writing is a hobby for me, it's part of what I do. When I'm teaching I'm writing all the time, so writing to me comes automatically, it's just expressing yourself.'
Mandawuy is thinking about who will be leading Yothu Yindi when he eventually steps down.
'Our organisation is a cottage industry so basically we like to have control in that area but always have  a view of maintaining who'll be in line next. So it's very important for our younger generation to understand this type of survival and existence and I think it creates that type of awareness.'
As for his own personal projects, Mandawuy is planning to move away from primary school teaching in a new and exciting project.
'I'm putting most of my energy and time into creating this establishment call Yothu Yindi Cultural Foundation which will allow for young Aboriginal people to come in and start education from music."