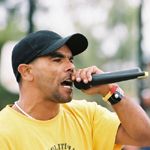 On its fourth visit to the South Australian town of Murray Bridge, the Vibe 3on3™ once again attracted a large number of the community's young Indigenous people for an eventful two days of basketball and hip hop activity.
Held over the weekend of November 26 and 27 at Murray Bridge High School, the Vibe 3on3™ featured non stop 3on3 basketball matches throughout the day as well as break dancing and hip hop workshops for both boys and girls.
Hosted by former Harlem Globetrotter Dwayne Cross, the event brings with it a crew of high-energy resident B Boys, B Girls, MCs, DJs and sporting figures.
Over the two days, up to 57 teams registered to compete, and many more people made their way down to the event just to watch the action, enjoy the music and soak up the atmosphere. Teams travelled from as far afield as Renmark, Berry and Meningie to join in the event.
The 3on3 was opened with a Welcome to Country by Eileen McHughes of the Ngarrindjeri people. The welcome was followed by a performance by the Talkinjeri dance group and speeches by Peter Lewis MP, the Member for Hammond, and Allan Arbon, Mayor of Murray Bridge
Local Sponsors for the event included the Lower Murray Nungas Club, Kalparrin Community Incorporated, Murray Mallee Community Health Service, Hills Mallee Southern Regional Health Service, Children's Youth and Family Services,
Also playing a huge role in the event were Lyn Watkins and Clyde Rigney, whose cooperation and commitment in pre event preparations helped make the weekend the success that it was.
"Once again the local and surrounding communities supported and committed themselves to the event with passion," says Claude Williams, former Sydney Kings coach and Vibe 3on3™ coordinator. "It was great to see parents, spectators and participants getting into the spirit of the event and enjoying themselves. There was some awesome talent on display throughout the weekend for all to see. Murray Bridge is definitely a major event on the 3on3 calendar."



BOYS U10
Team: DJ's
Cory Marshall
Todd Barry
Bobby O'Laughlin
Ethan Gilit
Presenter: Sharon Perkins
Organisation: Murray Malle Community Health




BOYS U12
Team: SIXERS
Keedan Rigney
Bradley Hartman
Cyril Trevorrow
Joe Trevorrow
Presenter: Lorraine Kartiyeri
Organisation: Lower Murray Nugars Club




BOYS U14
Team: EVERLAST
Barry Lindsay
Daniel Wilson
Johnny Clarke
Harley Holland
Presenter: Denise Wilson
Organisation: Vibe Australia




BOYS U16
Team: ORLANDO MAJIK
Michael Holland
Shaka Gollan
Sameul Wikblom
Tim Schapel
Presenter: Margie Simner
Organisation: Murray Mallay Community Health




BOYS U18
Team: BALLERS
Peter Wingard
Steven Drover
Nelson Miller
Aldo Reed
Presenter: Laurie Rankin
Organisation: Aboriginal Primary Health Care Unit




GIRLS U10
Team: LIL SAINTS
Ivanah Campbell
Courtney Reid
Shianne Morgan
Angela Gelles
Presenter: Claude Williams
Organisation: Vibe Australia




GIRLS U12
Team: AND 1
Tori Wilson
Nekia Wilson
Sarah Smith
Kelsey Gepp
Presenter: Shane Rigney
Organisation: Aboriginal Primary Health Care Unit




GIRLS U14
Team: BRATS
Krystal Wilson
Crystal Newchurch
Jasmine Trevorrow
Presenter: William Jarrett
Organisation: Vibe Australia




GIRLS U16
Team: BLACK ANGELS
Temmeika Campbell
Jesse Walsh
Patricia A'hung
Bessy Rigney
Presenter: Edie Carter
Organisation: Meningie Youth Worker




GIRLS U18
Team: ROUGH RIDERS
Elizabeth Rankine
Jamara Rowe
Njirrah Rowe
Janae Carter
Presenter: Di Hamill
Organisation: Wiltja Programme




GIRLS OPEN
Team: WILTJA WILDCATS
Sopia
Adele
Natasha
Presenter: Tomasz Owczarek
Organisation: Wiltji Programme




RAP COMPETITION
Kinga Tjuta
Street Legends




TEAM CARD
TNT's
Stephnie Woolger
Cassie Woolger
Stacey Murphy
Hannah Marchall
Presenter: Claude Williams
Organisation: Vibe Australia




BREAK OFF
Boys
1. Kujara Roberts
2. Joseph Peter
3. Nord Jammoul
Presenter: Isaac Parsons
Organisation: Vibe Australia






Break Off
Girls
1. Njirrah Rowe
2. Joy Anne Wilson
3. Tori Wilson
Presenter: Tammie Jarrett
Organisation: Vibe Australia




PUGGY HUNTER AWARD
Name: Shaka Gollan (Orlando Majik)
Presenter: Ronald Jan (Puggy's cousin)
Organisation: Aboriginal Hostels