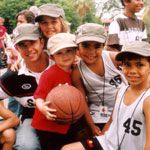 Sydney saw the return of the Vibe 3on3 Basketball and Hip Hop Challenge over the weekend for only the second time in the events nine year history.
The community turned out in great numbers over the two days, bursting with enthusiasm as everyone came together to celebrate living a healthy lifestyle and having fun.
Held at Sydney Boys High School over the weekend of December 8 and 9, the opening ceremony featured a Welcome to country by Clare McHugh from Sydney Metro Land Council on behalf of the Traditional owners.
Participants smiling faces from Redfern and Sydney's CBD were joined by visitors from Liverpool, Cabramatta and La Perouse.
"We have always focussed on regional and remote areas for our 3on3s – but this year decided to answer the call of the local Aboriginal community of Sydney and host the 3on3 event here. The highest population of Aboriginal people in the country is here in Sydney, so it's really only fair", Gavin Jones Managing Director and Executive Producer of the 3on3 said.
"What was remarkable was that the atmosphere at the Sydney event was pretty much exactly the same as if it had been in Port Adelaide or Kalgoorlie. Sydney was a huge success- we are counting on making it an annual event – the second weekend of December – each year from now on and build it across the city as a Christmas end of year community event for young people'.
There were 2 local sponsors who rallied to support the Vibe 3on3 to ensure the local youth experienced a weekend they would never forget. Local sponsors who helped make the 3on3 possible in their area were:
o Gadigal Information Services (Koori Radio)
o Matraville Sports High School
Our role models for the 2007 Sydney 3on3 were Sydney Swans star Michael O'Loughlin, talented singer Casey Donovan, Penrith Panthers new recruit Joey Williams, Australian sprint champion Joshua Ross and Aaron Fa'aoso, Torres Strait Islander Actor, Producers and Television Personality.
Also in attendance was the local South East Sydney Illawarra Area Health Service who hosted a sexual health stall at the event and the Department of Sport and Recreation to promote employment opportunities.
A big thank you must go to Judith Shuttleworth at Sydney Boys High School for her generosity and cooperation in pre event preparations, Terry Hoskins for his tireless work over the weekend and all the volunteers who gave of their time to help run the massive two day event.
The Vibe 3on3® is a two day Aboriginal youth weekend festival that incorporates basketball, dancing, art, culture and health. We aim to promote healthy lifestyles, strengthen communities and boost self-esteem. The Vibe 3on3® is also an excellent opportunity for health services and related organisations to introduce themselves to the wider community. For more information, go to www.vibe.com.au
The Challenge
A total of 36 teams entered the challenge, each displaying great ability, enthusiasm and sportsmanship. We must congratulate the winners of the events:
WINNERS
Girls 10 and under
Young Blacks
Nakkiah Simpson,
Tiarna Carroll,
Stevie Carroll
Kayla Simpson.
Girls 12 and under
La Pa Girls
Jasmin Allende
Akeisha Kelly
Justine Ducker
Girls 14 and under
The Brants
Tori Towney
Monique Peachey
Abbey Schmidt
Britney Miles
Rachael Dossetor
Girls 18 and over
Black Warriors
J.D. Streeting
Jordan Boyle
Justin Smith.
Presenter: Joey Williams
Boys 10 and under
Black Majic
J.D. Streeting
Jordan Boyle
Justin Smith.
Presenter: Joey Williams
Boys 12 and under
Black Ballas
Yanni David
Karl Kelly
Tyler Baliptle
Grant Garvey.
Presenter: Phil Orcher
Boys 14 and under
Woolloomooloo
StevenBoyd
Jake Campbell
Michael Montgomery
Alex Xipolitas
Presenter: Gavin Jones
Boys 18 and under
Liverpool All Stars
Jack Gordon
Scott Sauvao
Billy Carroll.
Presenter: Abie Wright
Rap
1. Bianca Cruse
2. Lissa Mumbulla
3. 3. Kylie Thomas
Presenter: Wok Wright
Team Card
Supa Ballas
Tyrone Waind
Jordan Cruze
Blake Clayton.
My Story
Monique Peachey
Boys Break Off
1. Shane Allende
2. Kahi Dowd
3. Maia Dowd
Presenter Isaac Parsons
Girls Break Off
1. Merinda Beale
2. April Allende
3. Stacey Williams
Puggy Hunter
Billy Caroll