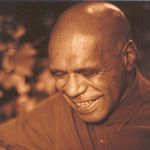 Deadly Vibe Issue 45 October 2000
"If there is a black God, it's him." That's how Leah Purcell describes Archie Roach.
How else do you describe him? Artist? Poet? Storyteller? Singer? Songwriter? Archie Roach is all of the above and he's also one of the deadliest brothers around.
As you can tell from his music, Archie is enormously proud of his heritage, the land and Aboriginal Dreaming. But he doesn't shy away from the "˜big issues'. Many of Archie's songs are heart-wrenching portrayals of the pain experienced by the Stolen Generations.
Archie and his wife Ruby Hunter, with whom he often performs, have toured Europe and Canada extensively. They have supported Joan Armatrading and Bob Dylan in the US, and are regular performers at world music festivals.
Archie released his debut album Charcoal Lane in 1990. Produced by Paul Kelly, the album went on to win two ARIAs, one for Best Indigenous Album and one for Best New Artist.
In 1993, he released his second album, Jamu Dreaming, and the following year he toured the UK with Robyn Hitchcock & The Egyptians. He also played Womadelaide and toured Australia and New Zealand with Suzanne Vega.
1995 saw him touring extensively throughout the US, Canada, the UK and Europe. He then returned to Australia to record the title track for ATSIC's Native Title CD, Our Home, Our Land with Tiddas, Kev Carmody, Bart Willoughby, Shane Howard and Bunna Lawrie.
Archie performed as part of a presentation to the Human Rights Commission's Inquiry into the Stolen Generations in 1996, before embarking on a national tour as a guest of Tracy Chapman.
In 1997 Archie released his third album, Looking For Butter Boy, which was recorded in a guest house in Port Fairy on the Victorian coast. He then toured nationally with Patti Smith.
Archie's three records chart an amazing progression in his storytelling, from Charcoal Lane's stark and highly personal landscape, through Jamu Dreaming's thought-provoking words to Butter Boy's newfound joy.
While recording his latest album, Archie was swamped with childhood memories, one of which led to the album's title.
"When I was about three years old, I was on the mission where my mother is from," he says. "I got into the pantry and covered myself from head to foot in butter. So from then on I was known as "˜butter boy'."
Archie says he finds inspiration in life from the music of Mahalia Jackson, Sam Cooke, Willie Nelson and the great Ray Charles. Who knows how many Indigenous artists in the future will cite him as their inspiration?
(Story 1/10/2000 end)

Deadly Vibe Issue 66 August 2003

BEING ARCHIE ROACH
After 12 years, Archie Roach has reunited with Paul Kelly on his new album Sensual Being. Produced by Paul and Richard Pleasance, the recording is something of a stylistic departure for one of Australia's most celebrated musicians. It's also his best work to date.
Archie first collaborated with Paul Kelly on the album that started it all, 1990's Charcoal Lane. Few Australian musicians have received a glowing review of their debut album in US Rolling Stone, but Archie did when the industry leader noted his music was "deeply moving" and "in the best singer/songwriter tradition".
Since then Archie has gone on to win two Human Rights Achievement Awards, five ARIAs, and a Deadly for Male Artist of the Year. He's also toured with the likes of Bob Dylan, Joan Armatrading, Tracy Chapman, Billy Bragg, Crowded House, Suzanne Vega and, of course, Paul himself.
While Archie and Paul's styles have evolved since the early days, their musical connection remains as strong as ever. And on Sensual Being it leads Archie into new realms. The vibe is predominantly soulful " even sensuous " with a touch of electronica and blues thrown in for good measure. It's quite a change from his traditional folk/country approach.
In terms of instrumentation, co-producer Richard replaced Archie on most of the guitar tracks, allowing the main man to showcase his rich vocal sound and warm vibrato.
"Paul and Richard created this wall of sound so I could just concentrate on the vocals," says Archie. "Even though Richard tried to duplicate my guitar playing, he still had a bit of a different rhythm, so it was good to sing over something different."
It shows. The vocals on Sensual Being are stunning and reminiscent of the great Aaron Neville. It's easy to understand why Paul was moved to tears when Archie sang "Many Waters Rise".
"Yeah, maybe I've got to make him smile one day," he chuckles. "But it's good to get that sort of response from someone like Paul. It makes you feel like you're doing the right thing."
In addition to co-producing the album, Richard also played most of the instruments on it. It was the first time Archie had worked with Richard " who comes from a pop/rock background and cut his musical teeth with Boom Crash Opera " and the collaboration was a fruitful one.
"Richard's was one of the names suggested to me as a producer when I was working on Jamu Dreaming and now we've finally got to work together. Paul knew Richard and gave him a pretty good rap."
Arguably, it is the combination of these two very different producers that has resulted in such an amazing new sound for Archie. "You go through life and finally change to the point where you're not categorising music, you're just going for what sounds good. We've just added something a little different."
The most startling track on the album is the first, "Alien Invasion". While it features a panoply of high-tech sound effects, the song is not actually a critique of the space race, but rather of homo sapiens' lack of respect for those it shares the planet with.
"It's actually a song about dolphins and whales and how sometimes man himself becomes like an alien," says Archie. "We tag whales and dolphins and have pretty much taken over the sea. It must be very alienating to those animals."
Despite the new sound, Archie's fans will not be disappointed. The album still features some signature blues and country. And there's even a world music influence in there. "Just a Little Time" and "Will I See You Tonight?" are a tribute to the many cultural influences Archie has experienced as a musician.
"I've been lucky enough to do a few WOMAD festivals, which include different cultures. I've got up and jammed with African musicians and it's just a joy. I like to try a few different rhythms, especially from different cultures."
Archie's musical heroes include Mahalia Jackson, Sam Cooke, Willie Nelson and Ray Charles. But his biggest love has always been for home-grown tunes.
"I like listening to Australian music first and foremost," he says proudly. "My old influences are soul, R&B, and blues. But I really do enjoy the music coming out today " new singers like Tim Rogers and Shakaya. I like what they've done using different rhythms. The music in Australia is now more universal."
Showcasing his earlier influences is the track "Mission Ration Blues". It's a good old fashioned, feelgood blues number about the flour, sugar and tea rations that used to be handed out at missions. But in spite of the problems of early mission life, it's an upbeat track that reflects Archie's belief we have to make the best of whatever has happened in our lives.
"When you go visiting in most communities, aunty will always have a hot damper for you, and it never hits the ground! The kids love it. It harkens back to those days and we still enjoy it. I suppose what I'm trying to say is you make the very, very best of whatever circumstances you've got."
Archie Roach has certainly done that. Having turned his life around with the help of his long-timer partner, Ruby Hunter, he continues to inspire through his powerful lyrics and active involvement in the community. Most recently he and Ruby were involved in Walking into Doors, a series of community forums held to tackle the widespread problem of family and domestic violence.
"It was good people finally had a forum to get up and talk about it, whereas it was so hush, hush before," he says. "I learnt a bit myself from certain Aboriginal men in communities. I'm the sort of fulla that thinks if you hit women and kids, then you deserve a hiding yourself. But they made me think that men need support and a place to go themselves."
Being open to learning and new experiences is important to Archie, who never dreamed his music would become a vehicle for social change.
"I started writing for my own benefit first, and then I realised in some odd way that my songs were a benefit to other people. I'm a bit socially conscious and social comment sometimes comes out in my music. It's good when your music can make people feel happy or sad or strong."
A passionate man who has worked tirelessly for what he believes in, Archie Roach has achieved what most people only dream of. So what is left on that list of things to do?
"We got a chance to do a WOMAD concert in Granada, Spain where I saw Van Morrison play. He's a great songwriter, and this is a big ask, but he's one I'd definitely like to tour with."
In the meantime, Archie will continue to do what he does best " write and perform great music. And to anyone wanting to follow in his footsteps, Archie says simply: "Reach for it. I never thought I'd ever be doing anything like this for a living, but there you go."
(Story 1/8/2003 end)