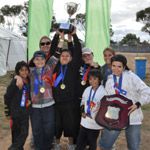 Students from South Australia, Victoria and New South Wales descended upon Mildura this week for two days of full-on excitement, fun and learning and to compete for the highly sought after Victorian Vibe Alive Cup for 2009!
One thousand students attended the festival, on Wednesday and Thursday 29 and 30 July, with youth from the region taking part in friendly competition with others from as far away as Shepparton and Glenroy in Victoria, Broken Hill and Wilcannia in NSW and Strathalbyn and Mount Barker in South Australia.
Vibe Alive is a two day festival for young Australians of all backgrounds that promotes Aboriginal and Torres Strait Islander cultures and encourages tolerance and teamwork. Vibe Alive allows students to sing, dance, play, create and learn in an environment where they can express themselves, share their talents and celebrate Aboriginal and Torres Strait Islander cultures. Participants also have the opportunity to explore healthy living and career options as well as boost literacy and numeracy skills.
"The spirit of Vibe Alive was also well and truly alive among all the young participants and the local community at Mildura Vibe Alive," says Mayrah Butt, Vibe Alive producer. "We saw some really inspiring examples of sportsmanship and some of the best student performances yet"!
Congratulations to the 'Two Rivers Middle Class' from Two Rivers College who were the overall winners of the 2009 Victorian Vibe Alive Cup. They were the overall winners with the most points and also winners in the Junior School category. The winners in the Middle School category were River Guyanie from Two Rivers College and the winner of the High School category was BMC from Ballert Murrup College. (A full list of winners is attached.)
The winner of the Barry Johnson Spirit of Vibe Alive Shield presented by Geoffrey Johnson and Kerrie Hayes was Harley Kirby from Two Rivers College. This shield will travel with the festival to each location and recognise the student at each festival who best displays the spirit of fair play.
Celebrity guests and role models meeting the kids and helping out with competition judging included Australian Idol Casey Donovan, Courtney Walter from So You Think You Can Dance? acclaimed actor Michael Tuahine, comedian and artist Kevin Kropinyeri, along with dancers Sean Carter, Medika Thorpe and Nakari Thorpe, all encouraging the kids to work hard, stay in school and reach their full potential.
More than 1200 people from the local area packed out the Community Concert on Wednesday night and the Break Off Competition on Thursday night to see the best of the festival strut their stuff on stage and enjoy a spectacular fireworks display courtesy of the Vibe Alive crew.
Vibe Alive is the new national youth festival in which teams of eight to twelve students represent their schools, competing in singing, dancing, painting and Indigenous sporting activities. They also complete a festival workbook and participate in interactive health and careers expos. Each component of the competition earns team points, with the team with the most points being named the winners in their age category.
"Vibe Alive Coonamble was a huge success," says Vibe Alive Patron Kerry Hayes. "It was the perfect platform for students to be motivated, inspired and entertained.
"We certainly found all the young participants inspiring – they were energetic, exciting, fun and full of potential."
The 2009 Vibe Alive Festival Program has only just begun with more events in other states including Port Augusta on August 5 & 6, Kalgoorlie on August 12 & 13 and to conclude Weipa on September 16 & 17. For more information about Vibe Alive, head to www.vibealive.com.au