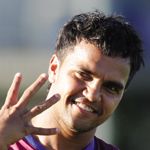 Deadly Vibe Issue 98 April 2005
Roar Power
Young Lions star Anthony Corrie is making his mark.
The media have referred to him as "exciting", "dashing", and "one of his team's best". Anthony Corrie has been a stand-out player so far this season, and by the looks of things, the only way is up.
"I don't really pay much attention to what the media says," Anthony admits. "I just want to concentrate on establishing myself as a regular on the team."
Darwin-born Anthony went straight from his home team Territory Thunder to the Lion's reserve grade, bypassing the VFL and WAFL route, which most young players work their way up through. His first season was tragically cut short after a broken finger and a ripped tendon saw him miss out on three months of competition.
"I was really down about missing out on so much," Anthony admits. "I was seriously thinking about just chucking it in and going home, but some of my mates on the team rallied round me and convinced me to give it another go."
These mates have done more than just Anthony a favour. With the Lion's losing several experienced older players, they were certainly in need of a fresh injection of talent. Anthony has provided some much-needed oomph to the side, with stand-out performances ensuring that this skilful midfield utility will play a more prominent role for the Lions this season.
"I'm feeling confident, but there are still a few things I need to work on," says the 19-year-old, who identifies his endurance as his greatest strength. "I need to work on my kicking, and I also need to put on a bit more weight."
Anthony names Michael McLean, Michael Motlop and team mate and fellow Territorian Daryl White as his main inspiration. Anthony would watch a young Daryl White play at the Gabba when he was just a child and to be able to play alongside is childhood idol is a dream come true.
"Yeah, Daryl looks out for me " all the Territory boys do," Anthony says. "It's great to have good mates around you."
Anthony is looking forward to a big season, and hopes that his team will once again dominate the competition.
"We're hungry for it," he says. "We'll hopefully make it through to the finals again this year."
Outside of football Anthony works as a tutor at a special school for young disabled people, and loves nothing more than going fishing.
"The fishing isn't that good here (in Queensland)," he says. "I'll have to wait until I go home for the off-season. In the meantime, I'm just going to focus on building my form and playing well."
(story 1/4/2005 end)