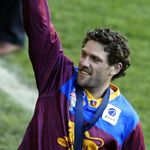 Deadly Vibe Issue 87 May 2004
With three premiership medals in his trophy cabinet, Darryl is one of the most exciting AFL players to watch. His spectacular marks and beguiling evasive skills, combined with his love of flying tackles, make him a crowd favourite. A bit of a tearaway as a youngster, Darryl has turned his life around – he is now a club vice-captain and one of the most reliable defenders in the game. Hailing from Alice Springs, Darryl made his first-grade debut in 1992. He might be flashy, but he's also a model of consistency, with a top-10 Best and Fairest place in five consecutive seasons. He is one of a handful of Aboriginal players " which includes Nicky Winmar, Chris Lewis, Peter Matera and Gavin Wanganeen " who have posted 200 AFL games. A big congratulations, Darryl!
(Story 1/5/2004 end)
Now in his ninth AFL season, Darryl White is regarded as one of the real legends of today's game. Vice captain of the Brisbane Lions, Darryl is enjoying his team's second place on the premiership ladder and hopes to taste grand final success later on in the year.
With an impressive 196 first-grade games under his belt, Darryl is on target to play his 200th game in 2001. He will also join a band of elite players next year when he receives his testimonial for playing 10 years with a single club. And those feelings of loyalty obviously run both ways, as the Lions have just signed him up for another three years.
But it doesn't stop there. Darryl is on target to break the AFL record for 'most games played by an Aboriginal player', previously held by Nicky Winmar with 251 games.
"To achieve that would be something I'd have never thought possible," says Darryl. "Although it's still a couple of seasons away, it would certainly be something special to achieve."
It all started back in 1991 when Darryl left his hometown of Alice Springs to pursue his childhood dream of playing in the AFL. When homesickness set in he returned home briefly, but was back in Brisbane in 1992 and has been with the Lions ever since.
Darryl has been an inspiration to the game, averaging an amazing 19 games per season. When he missed a game in round 16 of last season due to a hip injury, it ended an incredible run of 80 consecutive games that dated back to 1997!
And he has fond memories of growing up in Alice. This was where he first took an interest in Aussie rules, playing with local team the Alice Springs Pioneers as a nine year old. He was also inspired to play by his uncle Lance White, who played in Alice Springs and throughout South Australia.
"If my Uncle Lance had played in the AFL, he would have won a few Brownlow medals," says Darryl. "I only wish I was half as good as he was; maybe I'd have won a Brownlow myself!"
Darryl sincerely believes he wouldn't be the person he is today were it not for his upbringing.
"For that I thank my family and friends who are all back in Alice Springs," he says. "Being a country boy I know how hard it can be for young people from the country to come to the big cities, and that's why I go out of my way to help others."
He's not bragging. As well as being a full-time footballer and father of three, Darryl takes part in Life's A Ball, an AFL program that talks to students in years 8 to 12 about study, career and lifestyle options.
"I usually visit schools with six other players from the Lions and we have a chat to students about things that can affect their lives such as drugs, alcohol and safe sex. I'm really happy to take part in something like this, as it's a good thing for the community."
Deadly Vibe wishes Darryl all the best for the remainder of the AFL season.