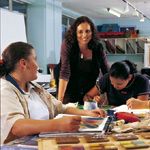 Name: Davina Kelly
A talented young teacher makes her mark
A visual arts teacher from Brisbane was recently chosen as a finalist in Australia's most prestigious Indigenous art award.
Davina Kelly, a visual arts teacher at Southbank Institute, was recently selected as a finalist in the Telstra National Aboriginal and Torres Strait Islander Art Award for her work, Paper Roses.
The Telstra National Aboriginal and Torres Strait Islander Art Award recognises the important contribution made by Indigenous artists as well as promoting appreciation and understanding of Aboriginal and Torres Strait Islander art.
Davina teaches Aboriginal painting techniques, drawing, design, ceramics and screen printing at the Institute's Indigenous Australian Peoples Unit. Her work, which is a series of embossed lino-cut prints, features words from the country and western song, Paper Roses.
"Growing up in my grandmother's house in the 1960s and 1970s Paper Roses was one of many country and western songs constantly playing," Davina says. "But as time has gone by, I've noticed it has become a favourite played at many funerals.
"This got me to really listen to the words. I realised how they must have had meaning for Indigenous women in an era when they were still being objectified as black but were also officially becoming free citizens. I put images to the words using some old photographs that belonged to my grandmother."
Davina is also studying for her Bachelor of Indigenous Visual Art, and continues to create artworks in diverse fields, from painting and sculpture.
"I only hope that I can inspire and encourage my students," Davina says. "I think sometimes I like going to class more than they do!
"It's a real thrill when you can see that a student has learned something new. I like to encourage my students to try new things and experiment. The best part is when you have a student that really wants to learn – you can really give them so much more of yourself as an artist and teacher as you watch them grow."