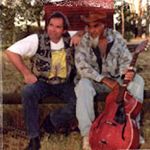 Deadly Vibe Issue 53 July 2001
Andy Alberts is passionate about five things: his culture, his land, his people, his family and his music. As a Gunditjmara man, Andy is proud of his heritage and draws on the strength of his ancestors both as a solo musician and band member with The Walkabouts.
After winning Song of the Year and Album of the Year for his debut record, Gunditjmara Land, at the 1998 Australian Roots Music Awards, Andy has been honing his musical style and is sounding better than ever.
And with a second album just released, Close to Home, he is finally gaining some of the recognition he deserves. "It's all starting to come together," Andy says with a smile. "I'm building a profile and I'm starting to take off. I plan to do another CD and an Australian tour within the next 18 months."
Traditionally Andy has been a solo artist, but recently he's been performing with a band, which he says he enjoys. "It's good fun, a real buzz. We really get a kick out of playing live. I just love sharing music with people."
Andy has performed all over Australia including the Port Fairy Festival in Victoria, Woodford Festival in Queensland, Melbourne Fringe Festival and Flinders Island Festival in Tasmania, to name just a few.
Most recently he was involved in a compilation CD to promote reconciliation, alongside artists such as Midnight Oil, Wendy Matthews, Yothu Yindi and Paul Kelly.
But you won't find Andy Alberts bragging about rubbing shoulders with such luminaries. Right now he's just happy to be doing what he loves – sharing his music with others.
"I'm just happy to have a name and have a good product out there!"
(Story 1/7/2001 end)