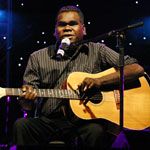 An intimate concert of songs that lament, uplift, inspire and may even bring you to tears.
Blind from birth, Geoffrey Gurrumul Yunupingu is a quiet but deep well of musical creativity and expression. Gurrumul is from the Gumatj nation, his mother from the Galpu nation both First Nations peoples from north east Arnhem Land.
A former member of Yothu Yindi, now with Saltwater Band, Gurrumul's solo live excursions highlight his natural talent as a singer, songwriter and well respected multi-instrumentalist.
Gurrumul writes and performs songs in an almost ëclassical music' setting with just an acoustic guitar, grand piano and double bass accompanying him. His songs are seen as the modern-day arias of north east Arnhem Land, and the combination of this instrumentation and setting take the audience on an intimate musical experience through many elements of his life and song.
Gurrumul was recently awarded Male Musician of the Year at the second annual Northern Territory Indigenous Music Awards, and his debut CD Gurrumul has been called by the Sydney Morning Herald "the most beautiful recording ever made by an Aboriginal musician."
Head to http://www.melbournefestival.com.au/program for more information