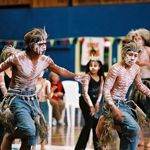 The Vibe 3on3 returned to regional Victorian town of Shepparton for the second time recently for another huge dose of basketball and deadly hip hop vibes.
Held at the Shepparton Sports Stadium on the 8th and 9th of October, the Vibe 3on3 once again showcased just some of the exceptional talent that within Shepparton's large Indigenous community. The event got started early on the Saturday morning after a welcome to country speech by Neva Atkinson of the Yorta Yorta people, followed by a performance by the Wolithica Dance Group.
Indigenous Hip hop artist, Brothablak was on hand to M.C the event and he treated the crowd to a performance of several tracks off of his up and coming debut album. It was then time for the basketball and hip hop action to begin as 3on3 basketball tipped off on all courts, while some teams attended the break-dancing workshop run by the always popular B-Boy 2 Ezy as well as Beat-Boxing workshops hosted by Brothablak.
As well as the sporting and hip hop activities that run throughout the weekend, young people who attended the event also passed through the Vibe 3on3 Health Expo, where they received health information and had their blood sugar levels checked.
"Shepparton remains one of the nicest towns we have visited on the tour and the kids were among the most enthusiastic and competitive I have seen. They displayed good basketball skills and some funky moves in the dance competition, their behaviour was exceptional and they were a credit to their parents and the community," says Event coordinator, Claude Williams.
Vibe would like to give a special thanks to Carol Smith from the Rumbalara Football and Netball Club for her support in lead up to event.



Boys U10
Lil Big Shots
Tristan Miller
Lindsay Bryant
Edward Bryant
Wilfred Stewart
Presenter: Shannon Drake




Boys U12
Firebirds
Aaron Harrison
Budger Harrison
Luke Harrison
Josh Harrison
Presenter: Carol Smith




Boys U14
Deadlys
Dale Riley
Aaron Wood
Jeremy Grace
Luke Brown
Presenter: Claude Williams





Boys U16
The Boyz
Trevor Atkinson
Trent Harrison
Leonard Harrison
Nathan Kerr (not present)
Presenter: Brothablack





Boys U18
The Lads
Peter Harrison
Charles Jackson
Rhys Wanganeen
Braidon Williams
Presenter: Claude Williams




Girls U10
Groovy Chicks
Stephanie Backhurst
Lesley Briggs
Alkira Lowe
Yullarah Lowe (in front)
Presenter: Katrina Mohamed




Girls U12
B2 Queens
Marissa Kerr
Shanara Stewart
Natasha Bamblett
Emily Winmar
Presenter: Brothablack




Girls Open
Koori Girls
Neva Atkinson
Katrina Mohamed
Leanne Bamblett
Melanie Winmar (not present)
Presenter: Jeanott De-nadjiten




Girls U16
Da-Unos
Val Atkinson
Janeiya Stewart
Rosaline Bryant
Rianne Hood (not present)
Presenter: Tammie Jarrett




Girls U18
Miss Sixty
Tammy-Lee Atkinson
Jalissa Austin
Alira-Lee Roberts
Presenter: Bboy 2-Ezy














My Story
Sissy Cooper
Presenter: Gavin Jones




Boys Break-off Winners
Adam Winmar (3rd)
Eddie Bryant (2nd)
Trent Harrison (1st)
Special Prize: Denzel Jackson
Presenters: Johnathon Fepulea,
Richie Fepulea and BBoy 2 Ezy




Girls Break-off Winners
Alkira Lowe (2nd)
Natasha Bamblett (1st)
Samantha Atkinson (3rd)
Presenter: Tammie Jarrett




Puggy Hunter Award
Alkira Lowe
Presenter: Claude Williams