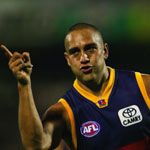 Deadly Vibe Issue 80 October 2003
A good old knees-up
Andrew McLeod started the season in familiar territory, winning the Michael Tuck Medal for Player of the Match in the final of the Wizard Home Loans Cup against Collingwood.
After already winning two Best on Field awards in the Crows' back-to-back grand final wins in 97/98, Andrew's thirst for more titles resurfaced as strong as ever this season.
Inspirational would be one way to describe Andrew's 2002 season. He has always been one of the AFL's smoothest operators, and this year was no different.
The focus this season for Andrew was getting back to top form, and his mid-season knee operation played an important role in helping him get there.
Andrew returned from the short break following his knee surgery playing pain-free. Soon after, he signed a new three-year contract with the Crows, meaning he will most probably play out his stellar career in Adelaide. Hopefully he will bring home a few more trophies to the city of churches.
(Story 1/10/2003 end)
Deadly Vibe Issue 59 January 2002
Mcleod Scoops National Sports Award
He should be Crow-ing, but that's just not Andrew's style.
Adelaide Crows' star player Andrew McLeod was in a state of shock after being named National Sportsman of the Year, along with Test cricket fast bowler Jason Gillespie, at November's National Aboriginal Torres Strait Islander Sports Awards held in Sydney. And with Aboriginal Australia's most coveted sporting award now under his belt, the sky is the limit in 2002.
At just 26 years of age, Andrew is regarded as one of the best in the code.
This is the just latest plaudit in an illustrious sporting career that has seen him be named best and fairest in 1997, take two AFL premierships with Adelaide, twice win the Norm Smith Medal, and gain selection to the All-Australian AFL team in 1998, 2000 and 2001.
"I was stunned, it came as a huge surprise," says Andrew. "I feel so honoured and so proud to be recognised by my people."
A devoted family man with two young children, Connor and Maddison, Andrew grew up in Katherine, playing his junior football with the Darwin Buffaloes. He moved to Adelaide in 1992 as a 17 year old and played for six months with Port Power in the SANFL (South Australian Football League). He was then picked up by the Fremantle Dockers, but within five minutes traded to the Adelaide Crows.
Andrew has been vice-captain for the last three years, something he has always maintained he is happy to do.
"I try to lead by example and I enjoy the extra responsibility. I like to help the younger guys by giving them advice and steering them in the right direction."
The Crows onballer has identified several Aboriginal players as role models. Among them are Brisbane Bear Michael McLean, Richmond's Maurice Rioli, and more recently, Michael Long from Essendon. All originally hailed from the Territory. His all-time favourite player was Essendon's Paul Van Der Haar, who was known as 'the Flying Dutchman'.
The Crows were eliminated in the first round of the playoffs in 2001 and went on to finish eighth. While Andrew was disappointed to be knocked out so early, he believes that 2001 was his "most consistent season in seven years".
Speaking at the Awards, ATSIC'S zone commissioner Brian Butler said that Andrew McLeod was a role model for Aboriginal and non-Aboriginal people alike who provided inspiration for all young Australians to go that extra yard.
"He has proved that dreams do come true. In taking out so many national awards our young South Australian Aboriginal sportsmen and women have shown that, despite having to leap some barriers at times, they are up there with the elite in this country, if not the world."
(Story 1/1/2002 end)
Deadly Vibe Issue 50 April 2001
Maccattack
One of the Crow's most gifted players, Andrew McLeod is a young champion of the AFL. His incredible bursts of speed, evasive skills and clear vision make him almost impossible to contain, while his versatility means he can play in attack, back line and midfield positions.
The powers that be obviously recognised these talents when they appointed Andrew Adelaide's deputy vice-captain, a role he says he is honoured to take on.
Demonstrating a remarkable consistency on the field, Andrew has been runner-up in Best and Fairest for three consecutive years (he won the title back in 1997). Back-to-back Norm Smith Medals for Best on the Field at the 1997 and 1998 grand finals also testify to his talent, as does his second All-Australian jumper.
While 2000 was a phenomenal run for Andrew, a knee injury at the end of the season put him behind the eight ball. For a while there were rumours that he was disillusioned with the game and wanted to give it away. But the AFL elite laughs at such whisperings, saying that while he was frustrated over his knee, he would never give up the game he loves.
This star midfielder has an insatiable desire to be the best, and we wish him all success in the 2001 season.
Name:
Andrew McLeod
Team:
Adelaide Crows
Guernsey:
Number 23
Date of Birth:
04/08/76
Height:
180cm
Weight:
89kg
(Story 1/4/2001 end)