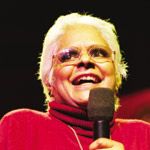 Deadly Vibe Issue 104, October 2005
Leading Lady
The Deadlys acknowledges a truly remarkable woman.
This year's Deadlys saw the presentation of a special Lifetime Achievement Award to one of Australia's finest actors.
Justine Saunders " a true luminary of the stage and screen " was presented the award as the crowd rose as one to give a standing ovation. The audience was also treated to some excerpts from Justine's innumerable film and television appearances. Over the years she has been seen in countless productions, from Number 96, Women of the Sun, Prisoner and Heartland to The Chant of Jimmy Blacksmith, The Fringe Dwellers and Until the End of World.
Justine, who came from hospital to attend the awards, was clearly overwhelmed by the accolade. But consummate professional that she is, her emotions did not stop her from making a heart-felt and powerful speech.
She spoke of her admiration of the talent that is now emerging from Aboriginal Australia, and of the importance of the preservation of black theatre.
She also joined in some playful banter with host Ernie Dingo, who has appeared alongside Justine in many productions, showing that the years have not dimmed her sharp sense of humour or her indomitable spirit.
(story date October 1, 2005 end)