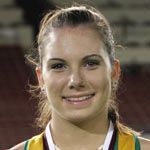 Deadly Vibe Issue 88 June 2004
Jumping for joy
When she still just a little girl, Alexis Turner found a place that made her happy – the athletics track.
At 19 years of age, Alexis Turner is already an old hand at athletics – she's been competing since she was five years old, when she joined her local Little Athletics organisation.
Back then, Alexis tried her hand at all the different sports until her coach advised her to focus on three key events – long jump, triple jump and the heptathlon.
Since then, she's come ahead in leaps and bounds – literally.
Alexis has competed for the past eight years at State level, winning several state titles along the way. She has also won gold, silver and bronze at the national level. In 2002, she went to the World High School Games in France, where she competed in both the relay event and the triple jump.
In 2003, Alexis won gold in both the long jump and the triple jump at the Youth Olympic Festival in Sydney.
She was also nominated for the Most Promising New Talent in Sport award at last year's Deadlys.
"It felt great to be at the Deadlys," Alexis recalls. "I didn't know that anyone had actually recognised my achievements. And I got to sit next to Anthony Mundine!"
At this year's national championships, Alexis recorded a personal best for her triple jump, coming second in the under-20s competition.
The triple jump is one of the more unusual track and field events, and one that many of us would be too stumped to even attempt.
"It's basically just a long run up, then a hop, a step and a big jump," Alexis says, making it sound like a walk in the park. "Some people call it the "cripple jump" because it's really easy to injure yourself if you're not properly trained and warmed up for it."
After the nationals, Alexis tried to qualify for the World Junior Championships, but a drop in form saw her miss out.
"I'd been sick for a while," she says. "Once I'd recovered, I barely had any time to train before the championships came around."
Alexis is studying for a Bachelor of Education at Birsbane's Griffith University after winning both a Griffith University Sports Scholarship and an Indigenous Sporting Excellence Scholarship.
"Now that I'm studying full-time, I've cut back on my heptathlon training and am just focusing on my long jump and triple jump," Alexis says. "I've got the University Games coming up in Perth later this year, and there's the state and national competitions to train for as well."
After graduating from university, Alexis has big hopes for the Commonwealth Games in Melbourne in 2006.
"I'll be too old for the Junior Championships next year, so I'm going to give it my all to qualify for the Commonwealth Games," she says. "After that, who knows?
"I believe that if you stick at it, even after a setback, you can achieve anything that you want."
When were you born?
July 3, 1985.
Where were you born?
Sydney.
Where do you live now?
Brisbane.
Do you have any brothers or sisters?
One younger brother.
What's your favourite part of Australia?
Brisbane – Sydney is too crazy.
Who is your favourite sportsperson?
Cathy Freeman.
What is your favourite colour?
Pink.
What is your favourite number?
3.
Who is your favourite band?
I don't have a favourite, but I listen to a lot of R'n'B and hip-hop.
Do you have a nickname?
Lexie, or Sexy-Lexie.
Who's real deadly in your eyes?
My parents and my coach.
What's been your greatest achievement so far?
Representing Australia.
Where do you see yourself in 10 years' time?
Hopefully I'll have competed at the Olympics, and maybe even have won a medal. Also, hopefully I'll be teaching at a good school.
(Story 1/6/2004 end)
Deadly Vibe Issue 77 July 2003
Might as well jump
Alexis Turner has set herself a goal. She wants to become an exceptional athlete who travels overseas, perhaps even picking up a few Olympic medals along the way. But for now, when she's not training, she likes to do the "normal teenage stuff", such as shopping, going to the beach and dancing.
Alexis is in training for the long jump, triple jump and heptathlon at the World Junior Championships next year. She says that "heptathlon training is very comprehensive and you've got to really concentrate". This demands a five-day-a-week practice schedule.
Alexis, 18, has been an aspiring athlete ever since she was a five-year-old going to Little Athletics. All that training has given her lots of focus on the track.
This time last year, Alexis flew to England and France to participate in the World School Games, where she won her other preferred event – hurdles. She also placed second in the long jump. Alexis will soon finish high school and is looking towards a successful future. She says she'd like to be a TV journalist one day. And with her dedication to sport, her personal bests " 12.41m for triple jump, 5.80m for long jump and 15.1 seconds for hurdles " are also guaranteed to improve.
(Story 1/7/2003 end)