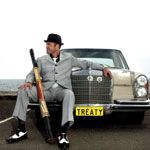 Deadly Vibe Issue 109 March 2006
Master Craftsman
Artist, muso and raconteur – proud blackfella Adam Hill is a jack of all trades.
An accomplished contemporary urban artist, graphic designer, illustrator and yidaki (didgeridoo) player, Adam Hill has successfully managed to combine the traditional with the modern to create a unique, bold style that pulls no punches.
The same could be said of Adam. This proud Dhungatti man is a fierce advocate of social justice, who is actively involved with organisations such as Australians for Native Title and Reconciliation (ANTaR), often contributing his time and talent, including the recent design and installation of a Sea of Hands at Sydney's Hyde Park. He also regularly speaks to groups of school and university students about his experiences growing up as a Koori in the western suburbs of Sydney.
As a didj player, Adam has performed at high-profile events such as the Deadly Awards, the Festival of the Dreaming, the Rugby World Cup opening ceremony and the final of Australian Idol.
Adam's work can be seen at galleries and on murals at schools, council buildings and shopping malls across New South Wales and Australia, and his illustrations also grace the pages of this magazine.
His latest work was unveiled on Survival Day at Ashfield Town Hall in Sydney. Adam was commissioned by ANTaR to create a mural that told the story of the Indigenous people of the area – the Wangal clan – from the time before British invasion to the present day.
"Before I started painting, I met with a focus group from who gave me a written history," Adam explains. "I used this to create a visual story that combines picture circles and written words that captures significant moments in the Indigenous survival story."
The mural is set on a background of hands, which have become a recognisable symbol of reconciliation for both the Indigenous and non-Indigenous community.
"It's designed to draw the Ashfield community's attention to the continuing contribution of Australia's first people," Adam says. "The position it's in will encourage passers-by to stop and learn something about this area's history. This in turn will hopefully inspire Ashfield residents to play a part in protecting and honouring this land, as Aboriginal tradition asks us to do."
Adam is now working on his next solo exhibition, to be held at the Mori Gallery in Sydney. He's also preparing for a new album release.
"It's been a long time in the making," he says of the album. "I've got together with three deadly musos – Calvin Welsch, Paul Jarman and Andrew De Teliga. We're hoping for a March release."
(Story 13/2006 end)
Deadly Vibe Issue 84 February 2004
Loud and proud
Artist Adam Hill is on a mission to take his message to the world. And in between canvases, the multi-talented Sydney resident is busy making sweet music.
Dunghatti man Adam Hill has a lot to say about the world and he's not too shy to say it. An accomplished artist and musician, he believes art allows him to get angry and downright confrontational without getting into trouble – and what's more, he gets paid for it.
"Politics comes into art for me because there are things that need to be said and things that are second nature to mainstream society that actually hurt Indigenous people on a daily basis," says Adam. "There's an endless list of things to be commented on in the way our Government is operating, and this is where my inspiration and my sources come from every day. When we're angry, the best thing to do is express it and the most acceptable way to do that is to vent it through art because you can say what you like and the more controversy you create often the more interested people become."
Adam was surrounded by art as a child growing up in Sydney but says he never dreamed he would progress from drawing trucks to becoming an award-winning artist.
"I always had an ability to draw," Adam says. "My relatives on my mum's side were very artistic and I had a great uncle who did some work at the Australian War Memorial. He was just the most brilliant artist I knew, so growing up watching those men produce that kind of work was deadly.
"I never envisaged I'd make a living from art, but nonetheless I just began to draw, just like all kids start drawing. All boys start drawing dinosaurs and I started drawing those and then moved onto trucks."
From those childhood days, Adam has developed into one of the most sought-after urban artists in Australia today. In 2002, he won the Milperra Art Award and was a finalist in the Telstra Art Awards. Yet despite studying graphic design at uni, Adam believes that art isn't just for people who've got themselves an 'edumecation'. He says that most great art comes from everyday people, especially those who've done it tough.
"I've seen some of the art that comes out of Long Bay Jail and Silverwater, and it is wicked stuff – there are some great artists there," says Adam. "That's probably one of the greatest things for an inmate to be able to vent and to know that his or her message is getting out there to the outside world. We all get frustrated about things we want righted and it's a matter of getting that out and channelling it into the avenues where people will accept that."
Adam believes that interest in Indigenous art is changing from the more traditional art of the remote regions to contemporary art that has grown out of the suburbs and the often hostile urban environment.
"The fascination has always been with remote artists because there's that mystique behind someone who lives in a humpy, somewhere where they still have their language and still practise ceremonies – that's what's been attractive to the modern art buyers," says Adam.
"It's taken a long time for that appreciation to be focused on urban Aboriginal artists because we're a hostile bunch. We've got things to say and people have been too scared to confront that. My current series of paintings are really quite in-your-face. There are a lot of other modern urban Aboriginal artists who say this confronting stuff and it's now becoming collectable, so it's inspirational to see these people reach success in the art world. White fellas in the art society are becoming interested in seeing these controversial messages and that's exciting."
Getting the message out to the wider community is important to Adam, who believes that art can be used as a weapon for political change.
"White fellas have these obsessions with building monuments to say that this park was officially launched in 1820 by lord pompous or whoever was the lord mayor at the time. Every park you go into, there's a statue of someone who screwed the place over, you know what I mean, but do we have a statue of Bennelong? So I'm thinking that I want a statue or a simple plaque saying you are on Gadigal land or Aboriginal land in every park in Australia. That's one of my projects. Some local councils have come to the party, like in the Blue Mountains now there are signs that say you are now entering Wiradjuri land. But every council has to do it."
When he is not getting his political message out through his art work, Adam works as a musician. In 2003, he performed at the Deadly awards, backing legendary Indigenous performers such as Troy Cassar-Daly, Jimmy Little and Michael Tuahine. This year he will release his second didgeridoo recording.
"My long-awaited seven-track EP is about to be released," says Adam. "We put together this didj, blues, funk-oriented sort of thing that's going to raise eyebrows all over the place because you're going to hear the didj in a way that you've never heard it before. It's going to be called Morthern Exposure, and we did it the old-school way. We went into the studio and just minced it up with everyone and we put the whole thing together in six hours. It's going to be dedicated to my origins in Kempsey – people will get a real kick out of this one."
(Story 1/2/2004 end.)