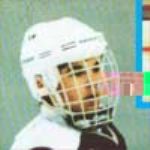 Deadly Vibe Issue 60 Feburay 2002
Ice Warriors
Ice hockey is one of the fastest sports in the world, and without a doubt one of the most dangerous, too. Hugely popular in countries with cold climates like Canada and America, ice hockey is slowly building a profile right here in Australia.
Aaron and Kieran Brown are two brothers from the Sunshine Coast who have taken to the sport like penguins to water, playing for the Gold Coast Stars, Gold Coast Grizzlys and even Queensland's state team.
"About two years ago we were really into in-line hockey, which is basically hockey on roller blades, and one of the coaches suggested we give ice hockey a go," explains Kieran, 11. "So we had a few lessons in skating and it all just went from there."
Once they'd mastered ice skating, the two set about finding their niche in the game. Ice hockey teams are made up of six players a side: the goalkeeper or 'goalie'; left defence; right defence; centre; left wing and right wing.
Kieran decided to really take up the challenge by choosing the position of goalie, one of the most difficult in this hardcore game. And although he's one of the shortest kids on the team (quite unusual for a goalie), this can actually be an advantage. Anyway, he must be doing something right as he's been selected numerous times for Queensland's state team.
The brothers' coach, Shane Luke aka 'Krush', is most impressed at how much they've achieved in such a short period of time.
"Kieran is one of the most outstanding goalies for his age group I've ever seen," says Krush. "On Sunday mornings when he plays and some of the senior players are watching, they just walk away with their mouths hanging open. For such a little guy he sure covers a lot of ground."
Both Kieran and older brother Aaron, 14, play defence positions and say they love the aggressive nature of the game.
"It's not a pansy sport," laughs Aaron. "In fact it can be pretty scary, but you're working as part of a team, so when someone does step over that line you know the rest of the team will be there to back you up."
They've both had their fair share of injuries. Aaron ended up with a broken wrist after a nasty run-in with a fellow player, while Kieran damaged his back after a number of players fell on top on him in one of those classic ice hockey scenes most of us have seen on sports shows.
Unlike his younger brother, Aaron is much taller than most of his opponents and can play both left and right defence positions. Not an easy thing to achieve when you've only been on the rink for a little over two years.
"I remember the first game Aaron ever played," reminisces Krush. "He scored something like seven goals. But both boys have flair, natural talent and the drive to achieve. They've started doing more one-on-one training with me lately, so they're heading in the right direction."
Playing such a physical game means the boys have to maintain their fitness. Apart from training regularly and playing two to three times a week, Kieran and Aaron love to hit the surf. And when they're not searching for the perfect wave, Krush is putting them through their paces and ensuring they don't scoff too much junk food!
Both Aaron and Kieran dream of one day playing in North America in the National Hockey League and of meeting their idols, Joe Sakic (captain of the Colorado Avalanches) and Curtis 'Cujo' Joseph (goalie for the Toronto Maple Leafs). Their dad plans to take the boys over to Canada in the next few years so they can experience the game first hand.
With the form these two have been showing since they first skated on to the ice, don't be surprised if you soon hear about two rampaging brothers from Australia taking Canada by (ice) storm!
Aaron and Kieran would like to thank their parents for all their support and their sponsors: Kalwun, First Contact and Skatebears.
(story 1/2/2002 end) >