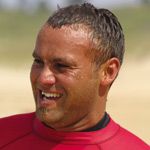 Deadly Vibe Issue 85 March, 2004
Steve Parker first jumped on a board at 13 after his father, a former surfer and board-shaper, took him out for his first surf.
"As soon as I got on that first wave there was no turning back, and ever since then I've tried to get to the beach every chance I have," says Steve.
For Steve the thrill of that first wave, and every ride since, is matched by only one thing. And that is watching young Indigenous kids enjoying the same experience for the first time under his tutelage.
Now 26, Steve is the chairman of the Victorian Indigenous Surfing Association, an organisation he formed four years ago with the help of fellow Indigenous surfer Anthony Hume.
"It all started when I got my Level One surf coaching certificate," says Steve. "Then when Max Wells from Surfing Victoria found out that I was Indigenous, we got together with Anthony Hume to form the Indigenous Surfing Association.
"From there, we began to work on a surfing program for Indigenous youth in Victoria."
The Indigenous program that Steve helped to form has now been running for four years. In that time, Steve and his colleagues have introduced Indigenous kids from around the State to surfing for the very first time.
"When we were growing up we never really had anyone come around to encourage us to become involved in different things, so now were trying to give to these young people opportunities that we never had," says Steve.
Leading up to the recent Indigenous tournament, Steve spent a month on the road organising and promoting the event.
"The aim is to increase the interest in surfing among all these kids, particularly those that live along the coast but only ever had football as an option," he says. "We want to give them another avenue."
A large part of the program involves working with at-risk youth and street kids.
"One of the most important things about surfing is that it brings these kids back to the land and ocean, connecting them just like their ancestors were," he says. "Hopefully, it can help keep them off the streets and out of trouble.
"We try to follow up on kids who show an interest as much as we can and try to get them into mainstream events," Steve says.
Outside of the Indigenous surfing program, Steve has also worked for Surfing Victoria on professional events such as the Roxy Pro, Baylin Junior and the Rip Curl Classic at Bells Beach.
As well as promoting the sport, Steve has also competed in Indigenous competitions at Philip Island, South Australia and Newcastle. He finished third in the open division at the recent Warrnambool event.
While winning is always good, Steve's greatest victory has been the highlight of helping others and seeing the results of his work. This far outweighs any trophy or medal.
"With the street kids, you may get to spend only two hours with them, but in that time you really make an impact on their lives," says Steve.
"When you first take them to the beach, they're usually too scared or just not confident enough to try it, but once you talk them into having a go, they come back out of the surf with the biggest grin across their face.
"I get really stoked just watching them get that same buzz from catching their first wave, just like I did when I started. In time, they forget about everything else that's going on in their lives and just concentrate on getting that next wave."
(Story 1/3/2004 end.)