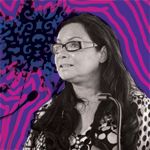 At the stroke of midnight on New Year's Eve, Rhoda Roberts whipped up a Creation Storm over Sydney Harbour, heralding in 2009 for a watching world. It's the latest international hallmark event for our leading Indigenous creative director.
Rhoda Roberts has been showcasing the richness and beauty of Indigenous culture to the world for the past 20 years.
With an amazing catalogue of work to her name, Rhoda has led the way on the Indigenous arts scene, particularly for large scale hallmark events. Yet she maintains that throughout her career, the driving force has simply been the conviction 'to put us out there'.
Now she can add creative director of the 2008 Sydney New Year's Eve fireworks celebrations to the list, one of the biggest and most watched New Year's pyrotechnic shows anywhere in the world.
"I think most people know me from doing The Dreaming, working on Deadly Sounds and of course doing a lot of Indigenous stuff. That's great because that's where my heart is and that's where I am but this was a fantastic challenge and it's really important that we're seen in the mainstream as well," she says.
"So to be able to do an event like New Year's, where it's a mainstream event but where we've been able to bring in a bit of what we're about, that's just so exciting."
For the past four years, Rhoda has established the Dreaming Festival, held at Woodford in Queensland, as one of Australia's top festivals and Indigenous cultural gatherings. Her role in Sydney's New Year's celebrations was a unique challenge which Rhoda viewed as another opportunity to showcase Indigenous culture and talent on the world stage.
"I feel really privileged actually as an Indigenous Australian to have worked on such a renowned event," she says. "I came to the event with a few questions: How do I make it new? How do I make it fresh? Do I put a personal signature on it? And I have to say that is not an easy task."
For the very first time, Rhoda brought a uniquely Indigenous perspective to the legendary harbour show by way of a unifying theme, a Creation Storm.
"Well, we looked at our country, Australia, home now to so many people," says Rhoda, explaining the creation theme. "We looked at our big skies, our diverse landscape, and we thought about New Year's Eve. It happens at such a specific time of the year, what does it really mean to us?
"Creation is universal, it's magical and it's beautiful. We wanted to find an element that links us, and so we looked at Indigenous culture and how it always begins with a creation story. Then we realised it was a beginning, there is always a beginning, that's what we all have in common. It doesn't matter where you are in the world, every culture has stories of a beginning. So it was simple, a beginning – creation.
"The beginning is also about the elements, like the stars, the moon, the sun, amazing landscapes, how countries form, and we're all a part of it. Then of course we looked at the harbour. It's our oasis in this country, it's where people gather, united as human people connected to one thing, our country, the land, the elements. I guess traditionally an oasis is where people are welcomed, entertained and replenished, just like Sydney Harbour on New Year's Eve."
As any good storm should, it was planned to build with intensity throughout the evening with lightning strikes and thunderclaps lighting up the harbour. Traditional smoking ceremonies to cleanse the harbour, 55 illuminated boats in a Harbour of Light Parade and special welcome messages and images broadcast on the bridge pylons were all planned to build the excitement to the huge 12 minute eruption of colour and sound.
In the months of preparation leading up to the event, Rhoda learnt about fireworks and the unique way they can convey mood and messages, combined with music and imagery to create an amazing performance.
"Fireworks are incredible, I learnt an awful lot, I've got my fireworks' terminology down," says Rhoda laughing.
"It's a long process and it's amazing because every drum beat marks the point of where something will fire off. So when you hear the music and you see what's happening on the bridge and you see the fireworks you actually go 'oh my gosh' because it makes the show all encompassing."
Sydney's New Years Eve is renowned as largest and most technical of any yearly fireworks celebrations in the world. The Sydney event draws bigger crowds than New York, London, Paris and Berlin, with a whopping 1.5 million people lining the harbour foreshore to catch a glimpse of the show. Thanks to International Dateline running through the Pacific Ocean, Sydney is also the first international city to reach midnight on New Year's Eve. This is why the Sydney Harbour show often features on news broadcasts around the world as other locations begin their countdown.
Naturally, planning such a spectacular and highly anticipated show comes with plenty of pressure, but producing a truly international experience that would be watched and enjoyed not just by Australians but also by visitors from around the world, as well as being seen around the world, was a once in a lifetime opportunity that Rhoda wasn't going to miss.
"We've seen how every year this event grows and gets better and is amazing, so I come along and go 'oh what do you put on the bridge that hasn't been there before? How do we give it that point of difference'?
"Well, one was obviously the Indigenous point of difference, but the other is the fact that every year there is more and more technology which allows us to do more with fireworks and the projections we had on the Harbour Bridge and the pylons had never been done before. So it looked so much bigger but really we stuck to the same budget as previous years, we just used different ingredients in the cake."
Casting a quick glance over Rhoda's career it would seem there really isn't much or anything this talented Bundjulung woman cannot do.
Born to a white mother and Aboriginal father, Rhoda grew up in Lismore in northern NSW, being told about everything that she could never do in life. At a time when opportunities for Indigenous people were extremely limited, Rhoda's mother discouraged her against lofty dreams or high ambitions. After beginning work as a nurse, Rhoda persistently pursued a career in journalism, eventually landing a gig as a presenter on SBS's First in Line.
As well as starring on stage and screen, Rhoda has built a reputation as one of Indigenous Australia's pre eminent broadcasters, thanks to her stints on the ABC's Awaye! program and the weekly Deadly Sounds radio programme.
In 1997, Rhoda produced the successful Festival of the Dreaming, the first of the four cultural festivals in the build up to the Sydney 2000 Olympics. Most memorable was her collaboration with Bangarra Dance Theatre's Stephan Page for the Sydney 2000 Olympic Opening Ceremony.
Her story sends a strong message to all young people about the power of self belief. Not only did Rhoda achieve much more then she was ever told she could, she continues to lead the way for Indigenous culture and talent to be presented on a world stage.
"Well lucky my totem is a goanna because you have to have a pretty thick skin," she says, explaining the key to her longevity and success in the arts word.
"You don't please everyone, what you've got to do is know exactly what you want to do and just have the passion. The key is passion, and you have to just go for it, and even fight for it, and for me, I guess I've always done it because I just wanted to get us out there."