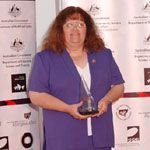 Over the Airwaves
Deadly Vibe Issue 116 October 2006
Koori radio presenter Paulette Whitton didn't realise just how popular she was until she was awarded with a Deadly for Broadcaster of the Year.
All across Sydney, Monday to Friday, the Indigenous community tunes into Paulette Whitton and her Blackchat program.
Paulette has been working in radio for over two decades. Her media career began at Sydney's Radio Redfern in 1987 before she move d to the ABC, working as a producer on Radio National's AWAYE! Indigenous arts and culture program.
Since starting at Koori Radio, Paulette has become one of the Indigenous station's most popular and recognised presenters, earning one previous Broadcaster of the Year nomination at the Deadlys. An d t o think Paulette almost quit radio entirely before the launch of Redfern Radio!
"I must thank the talent who appear on Blackchat," Paulette said. "Many thanks to all you mob who tell me your stories on the air. Without you guys Blackchat wouldn't be the Deadly program that it is.
"I'd like to thank everyone that's helped me throughout my career on this big journey. I've had an opportunity to talk, laugh and cry on radio " it's one of the best jobs in the world."