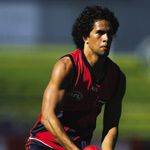 Deadly Vibe Issue 112 June 2006
On the Rise
After almost missing out on a spot in the big league, Aaron Davey isn't leaving anything to chance.
If it wasn't for the generosity of a certain Melbourne Demons coterie group, young gun Aaron Davey would almost certainly be watching the AFL from his lounge room in Darwin rather than starring on the field as one of the league's top players.
When Aaron missed out on the 2004 National AFL draft, he was just about ready to quit and head back home to play for his local footy team. But an anonymous donation of $15,000 made by the coterie group assisted in his promotion to the senior list.
What a difference $15,000 and a couple of years has made! Aaron is now one of the hottest Aboriginal players in the AFL and for him, life couldn't be better.
He enjoyed a great season last year, finishing third in the club's best and fairest awards after playing in all 23 games, and gaining selection to the Australian International Rules team that played against Ireland in the hybrid game of Gaelic football – a combination of Australian Rules football and Irish football which is played with a round ball.
Aaron's offensive coach Peter Curran has high praise for Aaron.
"Aaron is a player opposition team's target," he says. "They're assessing his skills and trying to minimise his impact on the game – there is no bigger rap than that. And to Aaron's credit, he has been able to absorb that attention."
Despite the fact that this young man's star is on the rise, Aaron isn't letting anything go to his head.
"I'm happy with my form so far but I have to maintain consistency," he says. "I'm very happy playing for Melbourne – I'm enjoying every minute of it. I'd like to play my whole career here if it works out that way.
Peter also believes that Aaron will be playing in the red and black for some time to come.
"Aaron is a team player with great agility and high speed," he says. "He's a high-price commodity at this club. He most definitely is seen as a long term prospect at the Demons".
Although Aaron misses home, he has the support of his mates to help him keep his mind of any bouts of homesickness. And earlier this year he got the chance to return home to Darwin when he played in the National Australia Bank pre-season cup against the Western Bulldogs.
"It was great to play in front of my family," he says. "I was a bit nervous because I wanted to play well, but I was happy being home."
Aaron admits that the Demons didn't have the best start to the season this year, but in early May they started to find some form.
"We got off to a sluggish start losing our first three games," he says, "But we have now won three in a row. If we can put it all together, stay focused and not look too far ahead, I'm confident we can go all the way and win the flag."
Aaron believes that the team to beat this year is the West Coast Eagles.
"But every game is hard and every team is capable on their day," he says. "They're all competitive, and the competition has really evened out."
His pick of this season's best players includes Chris Judd, Andrew McLeod, Adam Goodes and David Wirrpunda.
Aaron has a refreshing attitude and a mature philosophy for someone so young, and is already displaying potential leadership qualities.
"I ignore the stats," he says. "It's the little things on the football field and the efforts that you don't get rewarded for that inspire your teammates."
As for his progress to date in the tough grind of the AFL, Aaron believes he still has a long way to go.
"I'm still young," he says. "I've only been playing for two seasons.
"But I hope to become a well-respected and great player one day."
We don't doubt that he will.
(story 1/6/2006 end)
Deadly Vibe Issue 87 May 2004
Aaron Davey is living proof that if you stick to something, you never know what might happen.
Although he was seen as a certain draftee in the November national AFL draft after a promising season with Port Melbourne in the VFL, he wasn't picked, instead being taken in the December rookie draft by the Demons.
"It was really disappointing," Aaron remembers. "I couldn't work out why I wasn't picked. I'd been playing really well, and my life outside the game was a stable one."
Aaron was almost ready to give up and go back home to Darwin.
"I was ready to quit and just play local footy back home after the drafts," he admits.
Instead he stuck it out, and his determination soon paid off. An anonymous sponsor came forward and donated the $15,000 required to afford his promotion to the senior list.
"I really don't know who it was that donated the money," he says. "But I'd love to thank them, face to face."
The promotion was also a relief to this talented 20-year-old, who admits that a rookie often only gets one chance.
Aaron's debut was an astonishing one. He kicked a goal and grabbed 13 possessions.
"I wasn't really nervous," he says, "but I got a touch in the first few minutes, which I think helped with any nerves."
Following his successful debut, Aaron was shocked and delighted to be the first national AFL Rising Star nomination for the 2004 season.
"I couldn't believe it!" he remembers. "I was stunned and excited. I'd set myself these goals, and they were all happening for me.
"I'd set a goal to play in a cup game, and that happened three times. Then I set a goal to be elevated, and that happened. Then I set a goal to play in level one, and now I've done that three times!"
Lesser mortals would possibly let all this success go to their heads, but Aaron is keeping his feet firmly on the ground.
"I just try not to let it get to me, like all the media attention and stuff," he says. "I just take each day as it comes."
Aaron has now set himself another goal – to keep playing well, and maybe even win the flag. We've certainly got no doubt that he'll succeed.
"If you make sacrifices and never give in, you really never know what opportunities will come along," he says.
When were you born?
June 10, 1983.
Where were you born?
Darwin.
Where do you live now?
Melbourne.
Do you have any brothers or sisters?
Two brothers and two sisters.
What's your favourite part of Australia?
Home.
Who is your favourite sportsperson?
Gavin Wanganeen.
What is your favourite colour?
Maroon.
What is your favourite number?
3.
Who is your favourite band?
A mosh band from Goulburn Island, Arnhem Land called MOS.
What animal are you most like?
A tiger.
Who's real deadly in your eyes?
My mum.
Where do you see yourself in 10 years' time?
Hopefully still playing footy. If not, relaxing at home in Darwin.
(Story 1/5/2004 end.)