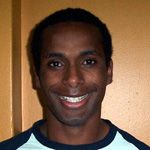 Deadly Vibe Issue 77 July 2003
His name is Wagui Anau, but he goes by Aaron. If you don't know him yet, you will. This Torres Strait Islander has got his feet firmly planted on the ground and no illusions about where he wants to go. The magic word, of course, is "quickly".
Aaron has spent the past eight months in serious training since coming out of a 2½-year hiatus from athletics. This sprinter possesses the guile to become Australia's next Patrick Johnson in the 100m and 200m events. "I've had a good season this year, running in Canberra, Sydney, Melbourne and so on," Aaron says. He achieved his best time – 10.66 seconds for the 100m – racing against the "big guys" at the Gold Coast in the Telstra A Series.
Aaron says his involvement in track began when he was in Year 10. His football coach, Lionel Williamson, was the one who noticed Aaron's natural speed and introduced him to track. With diligent practice, Aaron refined his technique and finished his remaining years at high school competing as a sprinter. He continued for a few more years at club and state levels, until he reached a crossroads.
When asked about his motivation to return to the sport but, more importantly, to return with fierce goals, Aaron calmly remarks: "I thought I might as well give myself a second chance." Fortunately, he's enjoying every minute of his sport since his decision to return.
At times, Aaron seems reflective about his experience with the sport; he doesn't get too excited about his results, even after finishing second in the Queensland State Championships in March and qualifying for the semi-finals of the nationals.
At the moment, Aaron continues to improve his technique with running, starts and second-half performance. Given his previous experience, he understands the dedication and determination it takes to succeed. He has started running the 200m, which complements the 100m event. "If you run the 100, it helps you finish through the 200 "¦ that's how I think about it," Aaron explains.
Spending more time training than he ever has before, Aaron is on the track six days a week for two hours at a time. He also has additional training sessions in the gym. In regards to training, Aaron admits "it's getting harder every week. I can't afford to miss a training session because then I'm setting myself back."
He's quick to admit that sometimes the training gets tough and "it takes a lot out of you", but with all his hard work Aaron now looks forward to competition. "Whether you win or lose "¦ if you know that you've done the work, you know you're prepared," he says.
The reward of pushing himself to reach difficult goals is that Aaron is already running against track superstar Patrick Johnson. Aaron says he likes to test himself against deadly athletes, so that he knows he's just as good every inch of the way.
Of course, running like Patrick Johnson is another goal for Aaron. He says that, ultimately, he dreams of representing Australia in the Olympics next year or in 2008. For his immediate future, he says he's giving 110 per cent at each practice session and working to the best of his ability.
"Motivation comes from inside," he says. Yet he also concedes that "it does make you work harder after getting beaten by the same people every year".
That same drive has landed Aaron a job with Queensland Athletics, coordinating Indigenous development. Based in Cairns, Aaron visits primary schools and youth centres in remote areas such as Yarabah to implement athletic programs and motivate kids to take up sport. Aaron says he enjoys the interaction, "especially when kids look up to me and are interested in what I'm doing".
And yet Aaron has never considered himself a role model. He doesn't think of himself as anybody special, just an athlete who's good at working with kids, has his eyes on an Olympic medal, but is always home in time to relax and watch his favourite footy team, the Brisbane Broncos.
What's your full name?
Wagui "˜Aaron' Anau.
When were you born?
May 25, 1978.
Where are you from?
Boigu Island, Torres Strait. I grew up in the western islands.
Where's home?
Cairns.
Were you born there?
No.
Do you have brothers or sisters?
I have a big brother and three little sisters.
What's your favourite part of Australia?
Queensland.
What do your friends call you? Do you have a nickname?
Those people that can't say Wagui call me Aaron.
Who was the first professional athlete you remember seeing?
Carl Lewis.
When did you start running?
In Year 10.
What's your favourite colour?
Any bright colour.
Do you have a lucky number?
Four.
What's the funniest thing that's ever happened to you while you've been training or competing?
I have a strong start. Once I kicked the blocks out from behind me and almost ended up on my face. Thank goodness they recalled the race!
What's your favourite song right now?
Backstreet Boys' As Long As You Love Me.
Who is your favourite Aboriginal or Torres Strait Islander athlete?
Patrick Johnson.
You're invited to a fancy dress party. Who or what do you go as?
Spider-Man.
What animal are you most like?
A cheetah.
What has been the most fulfilling experience of your life so far?
Winning the 100m Pan-Pacific in 1996 in Perth, beating Matt Shirvington. I then won silver in the 200m. It's also been fulfilling to get back into this sport.
What is your best asset?
I'm cool, calm and collected. And I like to enjoy life.
Who's real deadly in your eyes?
Patrick Johnson.
If you could travel anywhere in the world for holiday, where would you go?
Trinidad.
What's your personal motto?
Be the best you can be.
Make one prediction for your next track season.
I'll be at the Olympic Games.
Where do you see yourself in 10 years' time?
I'll probably be in the same job but not running too much.
(story July 2003 end)