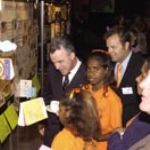 Story: National Literacy and Numeracy Week
National Literacy and Numeracy Week, which was held last month, celebrates the progress that Australian schools, teachers, parents, individuals and the community have made towards raising the literacy and numeracy levels of all Australians.
The two main features of the week were the National Literacy and Numeracy Week Excellence Awards for Schools, which were presented by the Minister for Education, Science and Training, Dr Brendan Nelson, and the Minister's Awards for Outstanding Contribution to Improving Literacy and/or Numeracy, presented by Dr Nelson to five individuals from across Australia.
Two remote Indigenous schools received Excellence Awards this year. One of these was Kulkarriya Community School, located on Noonkanbah Station in the Kimberley region of Western Australia. The school has adopted the Scaffolding Literacy Program, developed by the University of Canberra and funded by the Australian Government. The success of the program is seen as a major factor in the improvement of student literacy at the school.
The other Indigenous school to win an Excellence Award is the Murrupurtiyanuwu Catholic School on Bathurst Island. The Walking Talking Text Program forms the basis of this school's literacy program. The objectives are to improve literacy in English and numeracy, while at the same time strengthening Tiwi language and culture.
One of the five winners of the Minister's Awards for Outstanding Contribution to Improving Literacy and/or Numeracy was Narrella Simpson. Narrella has lived in Goodna, Queensland for more than 20 years and is a well known and well-respected member of the community. She has worked as a volunteer with a number of agencies to establish needs-based literacy training programs to help the Indigenous community obtain essential workplace literacy skills, as well as encouraging cross-cultural awareness by establishing classes for all community members.
The scope of her work is impressive: it includes the establishment of a literacy training course to help Indigenous people to obtain a driver's licence, learner's licence or forklift ticket, and developing computer literacy. The Literacy for Driver Learner Permits course was recently run by Queensland's Department of Main Roads in prisons.
Further information on National Literacy and Numeracy Week, award-winning schools and award-winners for contribution to literacy and numeracy can be found at www.literacyandnumeracy.gov.au