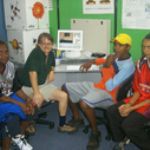 Our young fellas are worried " about their bodies.
Mission Australia's 2007 National Survey of Young Australians " Australia's largest annual survey of young people " has found that body image is the biggest worry for 11-24 year olds " both males and females " with one in three saying it was a major concern.
Mission Australia surveyed almost 29,000 young people between the ages of 11 to 24. When asked to rank 14 issues in level of concern, body image was ranked most frequently in the top three by 32.3 per cent of respondents. Family conflict was the next top concern at 29.3 per cent, while coping with stress came in third at 26.9 per cent.
According to Mission Australia's spokesperson, Anne Hampshire, young people's growing concern with body image should ring alarm bells in the broader community.
"Not only has body image grown in concern since last year's survey, but among young adults " those aged 20-24 " concern about this issue has doubled," she says. "As a community, we should all be concerned by these results."
Anne also says that while the survey indicated Indigenous and non-Indigenous young Australians shared many similarities, it also uncovered some stark differences.
"In terms of similarities, body image was the top issue of concern for both Indigenous and non-Indigenous young people," she says. "However, alcohol was the second highest issue of concern for Indigenous respondents at 31.8 per cent compared to 19.6 per cent of their non-Indigenous counterparts."
And turning offensive stereotypes on their head, young Indigenous people place a higher value on getting a job (26.4 per cent) over their non-Indigenous peers (15 per cent).
The young people surveyed said the things they most valued were family relationships, friendships and good physical and mental health.