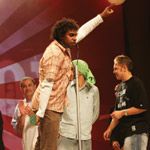 Deadly Vibe Issue 107 January 2005
Intrudaz Alert
Indigenous Intrudaz win big at Musicoz 2005.
Queensland hip hop crew Indigenous Intrudaz have taken out the 2005 Musicoz Aboriginal and Torres Strait Islander award. The crew were presented with their award at a huge ceremony at Wollongong's WIN Entertainment Centre on Thursday, December 1.
The ceremony showcased some of Australia's best unsigned artists, and included a performance by 2004 award winners Local Knowledge, who also presented the Intrudaz with their award.
The Musicoz Awards are Australia's premier awards for unsigned artists. Past winners have gone on to succeed both in Australia and overseas.
Hailing from the mean streets from Inala Brisbane, Damien Bani, Douglas Patrick and Zenith Bonner share their story through music. Dealing with the history, culture and current issues faced by Indigenous youth living in Brisbane, the Intrudaz represent the part of Brisbane that the commercial media would rather forget. It's no surprise they've become local heroes, inspiring kids in Inala and beyond. Their debut track Clap Your Hands is a rough, raw slice of real life from the streets of Brisbane.
The Intrudaz have performed at music festivals around Australia, including the Stylin' Up Festival, the Woodford Folk Festival and the Woodford Dreaming Festival.
As part of their award, the fellas have won a recording deal with CAAMA and the latest Rode NT 2000 microphone.
Upon accepting their award, the Intrudaz thanked their sponsors, Art Queensland, as well as Black Diamond and the Inala Start Up crew. They also gave a big thank you to the Inala community.
For more info on the Musicoz Awards, head to www.musicoz.org
(Story 1/1/2006 end)
Deadly Vibe Issue 101 July 2005
Raw and Real
Keep Your Eyez on the Indigenous Intrudaz
Damien Bani (Amon) , Douglas Patrick (DCP) and Zenith Bonner (Zenay) make up the Indigenous Intrudaz. These fellas formed when they were still at high school and have gone on to perform at some high-profile events, including the Dreaming Festival, Stylin' Up, the Woodford Folk Festival, and have also played as a support act for Shakaya and J Wess. This month will be seen at Brisbane's Valley Fiesta and the Queensland Music Festival. The Intrudaz style of hard-hitting hip hop deals with the kinds of issues faced by young Indigenous people today as well as celebrating culture and heritage.
(Story 1/7/2005 end)