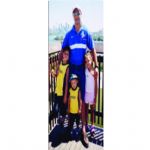 Name: Danny Allende
Saying that he loves sport doesn't do justice to Danny Allende. This father-of-three is a shining example of dedication to sport and community.
A resident of La Perouse in southern Sydney, Danny uses his free time to serve as the vice-president of La Perouse football club, as well as being its A-grade coach. But wait, there's more. He's also a board member of La Perouse Panthers knock-out team, the South-eastern Junior Athletics co-ordinator (in which his children participate), secretary of the community cricket club and, most recently, he took on chairing his children's school's ASSPA.
When asked about all of his commitments, Danny jovially admits that "I didn't realise there are quite a few until I put everything down on paper the other day". Danny insists that his commitments aren't too demanding – each of them has its time and place. More importantly, everything Danny involves himself in reinforces messages to his children and the community about the importance of keeping a proud identity and culture.
For him the day begins at 6am, or sometimes earlier if he wants to get in a bit of a boxing workout. Danny then organises his three children – Danny, eight, Jasmin, six, and Shane, three – for school if his wife, Trudy, is having a sleep-in. Both parents share morning duties but Danny says he likes to be up early with the kids, adding chocolates to lunches or having a quick game of cricket in the lounge room, much to the chagrin of Trudy.
By day, Danny works for the Health Department as a project officer for Aboriginal Workforce Development. Danny helps write policy on Indigenous issues in the area of health, and places Aboriginal people in positions in health services throughout the whole of NSW. "It's a pretty big role," Danny says. "We write policy and procedures, and try to help out as much as we can in that field."
That same philosophy also applies to Danny's outlook on improving his own community. "I played rugby league and basketball all my life," he says. "I was pretty fortunate to grow up with a sporting family. I grew up around the Redfern/ Waterloo area playing sports at the Moore Park playground."
Since he finished playing rugby league a decade ago, Danny has continued to be involved with his community in other ways, specifically devoting time to be with kids. He believes that despite the unsettled times we live in today, kids should be able to grow up as kids, play sport and have fun. "We're trying to push hard to get some sort of youth centre happening because there's nothing out here," Danny says. "I'm working now so that hopefully, in 15 to 20 years' time, [my kids'] kids will have suitable facilities."
Coaching and committee responsibilities take up Danny's time after work. The afternoons can be quite chaotic, as he and Trudy try to juggle the kids' training schedules and transport them to practice. Plus, on Tuesdays and Thursdays, Danny coaches the La Perouse A-grade team, or attends the occasional ASSPA meeting to plan a NAIDOC event. Saturdays are no different. If his kids are not playing a game of football (all three of his children play), then there's Nippers swimming in the summer, or some other spontaneous activity such as a family barbecue. Fortunately on Mondays and Fridays everyone can stay in and watch football and have a nice dinner together.
Danny says he and Trudy try to stay family-orientated; their close relationship has helped reinforce old-fashioned values such as not taking anything for granted. "It's difficult sometimes because there are a lot of materialistic things these days," he says. "When I grew up it wasn't an issue, it was just a football or basketball. That's what kept me going. So I think the tough thing is the balance. We constantly let Danny, Jasmin and Shane know that we love them and they are all equal and to never give up."
Danny certainly seems to have acquired a lot of wisdom in his 30 years, which he is trying to pass onto his children. "All I know is how I've grown up and that's been good for me," he says. "Some of the values that my parents and grandparents passed on to me were to always respect people and treat them the way you want to be treated."