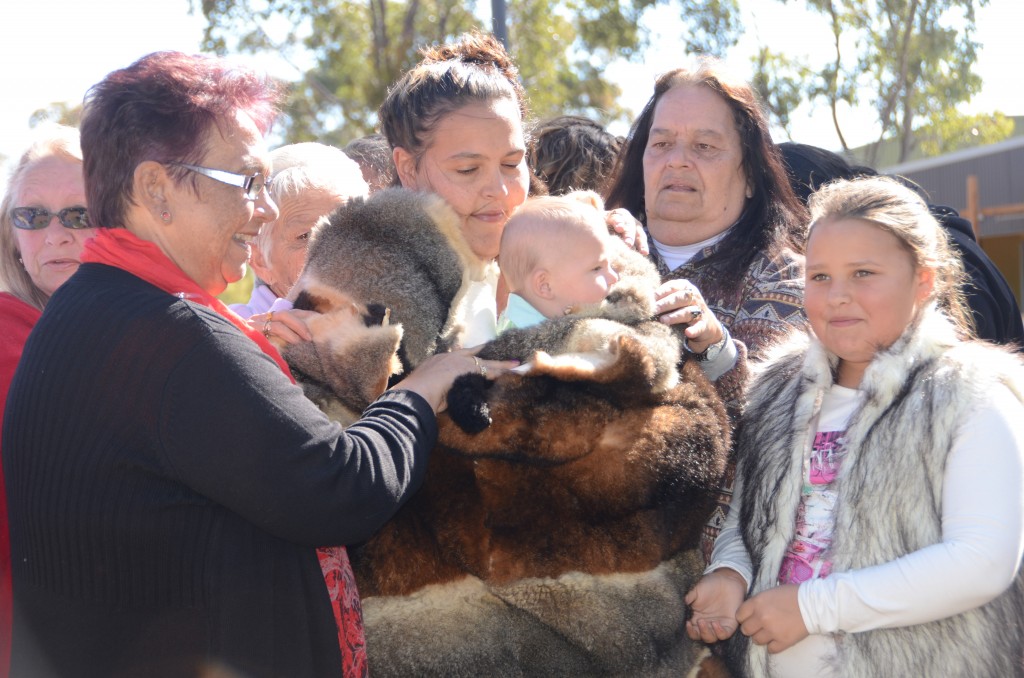 picture courtesy of Namoi Valley Independent.
The Winanga-Li Aboriginal Child and Family Centre was opened in Gunnedah, NSW last week and strives to provide Aboriginal and Torres Strait Islander children and their families with the best start in life.
Winanga-Li which means 'to hear, to listen, to know, to remember', is one of nine centres that are due to open across NSW with a primary focus on improving early childhood outcomes for Aboriginal children.
At the opening ceremony last week children were wrapped in a donated possum skin cloak that is used in traditional naming ceremonies to symbolise the family's responsibility of their baby. The mother and child are wrapped in the skin by female family members.
"We need to give our children a really good start in life and fundamentally that's not happening across this country, and it's so crucial that everybody knows," says local Aboriginal elder and centre manager, Wayne Griffiths.
The centre provides many programs and services including speech pathology, hearing and referral to specialist services, educational programs for parents, family support and building cultural knowledge.
"Our focus is performing an innovative service in terms of childcare, and we have children from the ages of nought to five years, and from that process we work with our families to engage them in the many different programs that we have," he says.
"It's already proving beneficial to these children and families."
The centre is fully staffed by Aboriginals who live in the community – which is beneficial in that it allows people who know the community to address the needs of the families they see every day.
"We will begin to arrest the problems of the early learning process for children, the problem of Aboriginal families not accessing the services, the health and education problems and just simple everyday rights that we're entitled to as Australians," Wayne explains.
It has also opened up job opportunities for some of the local Kamilaroi people.
"We certainly open up the scope and have a casual wait list of six people. We also assist some of our people on how they can broaden their horizons in terms of other employment," he says.
Winanga-Li, although it has just opened, is already catering to the needs of the community with a total enrolment of 62 children and a wait list of 25.
"Everyone says that early intervention is at the heart of giving our children the best start in life,"
"The connection we have with the families also encourages them to start that early learning process at home.
"Every child has the right to good education, right form the very beginning."