She's been a busy woman what with bubba and everything but Christine Anu recently managed to find time to work with Baz Luhrmann (famed Aussie director of films including Strictly Ballroom and Romeo & Juliet) on his album, something for everyone. Christine sings on the first single to be released from the album, 'Now Until the Break of Day'.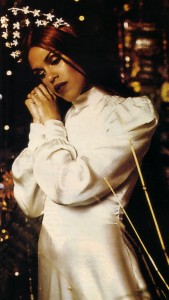 Deadly Vibe managed to track Christine down to ask her a few questions about the project.
Deadly Vibe: How did you come to be involved with Baz Luhrmann?
Christine:Well I think Baz was given a CD of my album when he was shooting Romeo and Juliet in Mexico. They were listening to the album whilst they were shooting so I think he started having me in mind for something then.
Deadly Vibe: Had you seen his films before then?
Christine: For sure, Romeo & Juliet was a fantastic film. It converted me into being a true Shakespeare lover. After that I went to see A Midsummer Night's Dream done by noel Tovey for The Festival of the Dreaming. That was also an amazing production.
Deadly Vibe: That would have been good homework for the song you did with Baz – 'Now until the Break of Day' comes from A Midsummer Night's Dream, doesn't it?
Christine: Yeah it's a conversation that happens between Titania and Oberon (Queen and King of the Fairies) and Puck (Oberon's mischievous servant). I sing Titania's part. The other people who sang were David Hobson from the Australian Opera and Royce Doherty from a techno group called Kiva.
Deadly Vibe: What was it like working with such a diverse group of people?
Christine: It was really great to have an opportunity to work with David Hobson. He was absolutely fantastic and musically quite challenging. I learned quite a bit of him. We were all involved in working out the vocal arrangements. When we started we had no idea who was going to tell the story and where each person would come in. Baz Luhrmann is actually quite a musical man. Even though doesn't play or read music, it was really clever how he could put all the characters together.
Deadly Vibe: Tell us something about the video you made for 'Now Until the Break of Day'.
Christine: I get to wear this long white wedding dress that's an original from the Victorian period and I'm wearing a beautiful long red wig – I really look like a princess. And Purk is like a magic man who starts up the story. He's opening up like a photo album with scenes from all the productions that Baz has been involved in. And he happens on a story between the Queen and King of the fairies, Titania and Oberon. It's got some old footage from an old Hollywood black and white film of A Midsummer Night's Dream and then it goes into colour and at the end the king and Queen marry and there's this choir superimposed, it's really clever.
Deadly Vibe: It must have been amazing working with Baz Luhrmann. Any other projects in the offing with him? Any chance of seeing you up on the stage or on film?
Christine:He's a pretty special talented man. I'd be crazy not to want to be involved with him in the future but before I did any acting I'd want to do some lessons, I think.
Deadly Vibe: Are you on any of the other songs on the album?
Christine: No I'm not but it's a great listen. It's a real Christmas album, it's all fun and cheery, you can imagine it on at barbeques.
 The single, 'Now Until the Break of Day' and the album, Something to Remember are available on EMI Records.