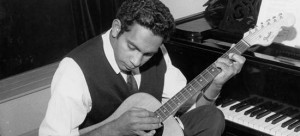 From the moment his classic hit, 'The Royal Telephone', swept the nation in 1963, Jimmy Little became the very public face of Aboriginal Australia – and one of our most treasured icons.  In this Deadly Vibe tribute, Col Hardy, Graham 'Buzz' Bidstrup and Shellie Morris share their recollections of our beloved travelling troubadour.
 A great man
Singer/songwriter Col Hardy remembers Uncle Jimmy Little as a great man who paved the way for a lot of people in music. He also remembers the legacy he left for his people in raising awareness of kidney disease.
His first memory of Uncle Jimmy was back in the early '60s when he lived in Walgett, NSW and saw Uncle Jimmy perform for the first time with the travelling Col Joye Show.
"I'd heard him on the radio and so I went to see him in the show. He sang 'Take Good Care of Her' and he didn't disappoint me. A lot of people don't know that aside from being a good singer, he was brilliant on the guitar," Col says.
"I really wanted to meet him. I am related to his wife and she said 'come around and meet Jimmy'. I thought then what a great person he was and when I went to Sydney we became good friends, and he wrote a couple of songs for me."
When Col was in Sydney, he performed with Uncle Jimmy in the All Coloured Show. "You hardly saw a black person in the audience – they were all white and that showed just how much he paved the way for us with his music," Col recalls.
"He used to say we'll let the politicians do the talking and we'll stick to music – get our message across that way."
Col also toured with Uncle Jimmy's shows in Tamworth and it was at one of those shows that he was asked to record his music.
He also paid tribute to Jimmy's work with the Jimmy Little Foundation in raising awareness of kidney disease.
"He spoke about it [kidney disease] whenever he could. I remember when his wife passed and he said whatever you do, don't get diabetes. He always thought he should tell people about the ups and downs of kidney disease, to raise awareness of it."
Much has been said in both mainstream and Aboriginal media on the quality of Uncle Jimmy Little as a person – his kindness to others, his gentle wisdom and his patience and tolerance of all things.
"Nothing troubled him. He was so kind to people. He would ask them to visit, have a cuppa. It was just his nature," Col says.
Col was honoured in 2011 with the Jimmy Little Lifetime Achievement to Music award at the Deadlys. He's just sorry that Jimmy wasn't there to see him be presented with the award, as he was too ill to attend.
"He leaves such good memories because he was a great man."
 Letting his music  do the talking
Jimmy Little was loved and admired by many across Australia, not just for his beautiful sweet voice or his contributions to improving the health and education of Aboriginal and Torres Strait Islander people, but also for his gentle manner and generosity of spirit.
Fellow musicians from the 1960s related stories of Jimmy to his friend, comrade and manager Graham 'Buzz' Bidstrup recently.
"Col Joye, from Col Joye and the Joy Boys, said when they turned up to play in country towns where they often were told: 'that guy (Jimmy) has to go in the back door, but you guys can come in the front, the musicians would say if that guy has to go in the back door, then we'll go through the back door too. He was part of a brotherhood with other musicians that started the reconciliation movement," Buzz says.
And though he was sometimes challenged to speak out more and be more political, Uncle Jimmy had his own opinions about that.
"He called it the soft sell. He said he would rather hit people over the head with a feather until they got the message. He was an entertainer and he used to say that he would use his music to do the talking," Buzz says.
"Judy Stone, another performer from that era, said that when Uncle Jimmy would come out and softly sing – the whole crowd would stop talking and listen. That was the measure of the man – that he could make you listen by not raising his voice – by going inwards. I had 12 years working with him and that is one of the things that he taught me."
Buzz says Jimmy experienced some lean times, but then underwent a kind of transformation following the success of the Messenger album in 1999. But in typical Jimmy Little fashion, he used his own success to benefit others.
"After his new-found fame with the Messenger album, he was appointed an ambassador for literacy and numeracy and we travelled around to different communities. Jimmy would talk to young people about the importance of staying in school and getting an education," Buzz says.
"He used to say to me that he had been to the same community in the '70s and '80s and '90s and that it was no different – actually that it was worse – and we'd notice that a lot of the old people had kidney problems and chronic disease. Jimmy said he wanted to do something about that."
He set up the Jimmy Little Foundation, with a number of programs across the country including The Thumbs Up Healthy Eating Program and the big purple bus for renal dialysis.
"He used to say we not only have to do something for the people who already have these chronic diseases, but we also have to do something preventative – that was the 'Thumbs Up Program' – to try and encourage kids to eat better food, drink water and have a healthy lifestyle. His legacy is going to live on and I am privileged to be a part of it".
 The messenger
As the tributes for Jimmy rolled in, well-known singer and songwriter Shellie Morris reflected on working with him in remote communities and his influence on her as a performer.
"Uncle Jimmy was one of the kindest and most generous men I have met.  He was loved by so many people," says Shellie, who travelled and worked alongside Jimmy in her role as an ambassador for the Jimmy Little Foundation, where she and a team of musicians visited remote communities to work with children.
"He was great to work with, especially when working with young people, making music and video clips with them out in remote communities. He loved spreading the messages of good health and long life.
"During those years working alongside him and seeing his vision come true – he was just incredibly inspiring and there wasn't a community that he didn't affect. He impacted on everyone from the tiny ones to the older ones. He was so well-loved in those remote communities as well as all around Australia."
Shellie also performed alongside him many times and says he was a memorable performer.
"As a performer he was true – everything about his performances were incredible – he was always very generous and always on for a chat, or equally comfortable just sitting quietly on the side of a stage. He was just great," she says.