Name: Grant Hansen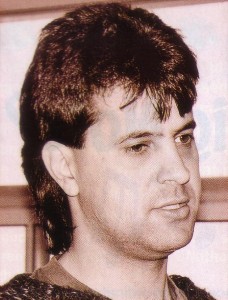 Where are you from? Melbourne Victoria
What is your band called: Blackfire
Position in Band: Guitarist/singer/songwriter
How old are you? 32
How did you get into music? By persistence and luck
What is the worst outfit you have ever worn? School Uniform
If you could travel anywhere in the world where would you go? Canada and Yirrakala N.T.
If you could be on any TV show, which one would you be on? Count Down – revisited with me as the Host.
What would you be doing if you weren't a musician? Working still at Songlines Music
What are your favourite and worst favourite colours? Favourite colour: Blue, Purple and Aqua. Least favourite: Pink, Orange & Yellow
Which part of your body would you most like to change? A decent set of teeth would be Deadly
Do you have a pet? A dog called "Libba" after the AFL Football Star Tony Liberatore
Do you have a partner? No but I'm open to offers
What's your favourite ice cream? "Peters" chocolate ice cream
What's the best meal you can cook? A roast dinner
What's your favourite movie? "Cry Freedom" & "In the name of the Father"
What is your worst habit? Too straight forward at times
What has been your greatest achievement? Playing and touring nationally and internationally with Blackfire
Where do you get your hair cut? Stop & Style in St. Albans, Melbourne
When you were a kid what did you want to be when you grew up? An AFL football player
If you could have one wish what would it be? To be the first black Prime Minister of Australia
Do you have a nickname? What is it? Hanno (Gummarang – Skin Name)
What's the most embarrassing thing that has ever happened to you? Getting caught out playing up on an old girlfriend
How would your best friend describe you? Honest and Loyal
Have you ever been in love? Too many times for little reward, I'm a sucker for a pretty face.
Which element do you identify with most? Fire, water, earth or air? "Fire" (Blackfire)