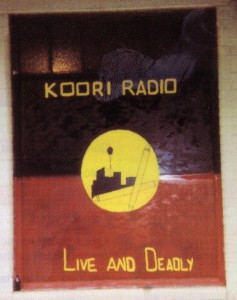 This month Deadly Vibe visits Koori Radio, to talk about their April test Transmission, "LIVE AND DEADLY ON 96.9 FM."
So what's the exact name of your Radio Station
Koori Radio is an arm of Gadigal is an Aboriginal arts/media organisation set up to deliver information to Aboriginal people across Sydney and NSW on many different issues. One of the main focuses to our organisation is Koori Radio: Australia's only 100% Black Radio Station.
So what does Gadigal mean?
Gadigal is the language group of the original owners of the land around the inner city of Sydney: around redfern. And everyone knows Koori is what we call ourselves in most parts of NSW and Victoria.
But Koori Radio goes out to many other Aboriginal people as well as just the Redfern community.
Oh yes, Koori Radio at 96.9FM can be heard from Sydney to Gosford through the Blue Mountains. We have even had calls from Goulburn where people can pick up our signal.
Who are the original people of Sydney?
The Eora people, the Daruk people, as well as the La Perouse community are all traditional owners of the Sydney area. Koori radio tries to have a focus on all these communities as well as providing information and music from across NSW and around Australia.
Koori Radio also has an international focus to it's format doesn't it?
We work with and cater to our cousins from across the region: particularly the South Pacific, including Maori, Samoan and Bouganville people as well as the East Timorese and Torres Strait Islander community and many others.
This International flavour to our station is never at the expense of Aboriginal news, music or identity. Our format is such that we play a minimum of one third Aboriginal and Torres Strait Islander music every hour.
If you had to describe what kind of station Koori Radio is what would you say?
Koori Radio is Australia's only black music station. We are the only stations in the country that plays all black music.
We play Aboriginal and Torres Strait Islander music, Indigenous music from around the world, African American music, R'n'B and hip hop jazz.
And you are about to go on a test transmission. What does that mean?
Yes, we will be broadcasting from the 7th of April until the 4th May. This is a test transmission, part of our long – term application for a permanent broadcasting licence. The test transmission is part of the Australian Broadcasting Association Criteria. Because we don't broadcast full time we known as an Aspirant broadcaster which means we broadcast at least 90 days a year.