A new project developed by Edith Cowan University aims to encourage Indigenous students in Western Australia to pursue a career in science. The project, called 'Old Ways, New Ways' has been developed by Dr Magdalena Wajrak from the School of Natural Sciences and ECU's Cultural Awareness Officer Jason Barrow.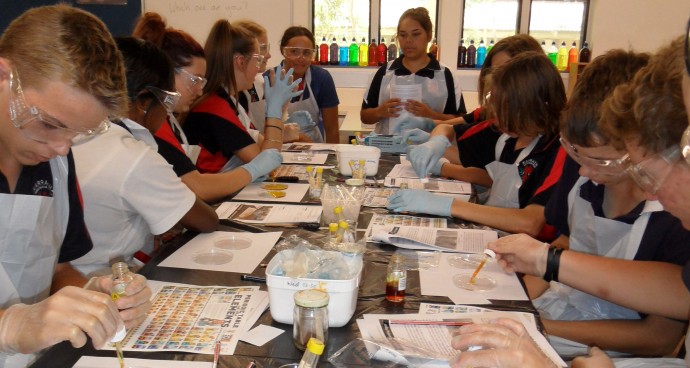 Magdalena has been doing her own program for many years, and while successful, she struggled to get Indigenous youth engaged. Teaming up with Jason meant the duo could expand on culture within the workshops and so they began making journeys to schools in the area, and as far as Bunbury.
"'Old Ways, New Ways' is about showing students and, in particular, Indigenous students that they were probably the very first scientists. We don't think about it but they were the first scientists, they were doing science but they probably didn't know. The students think 'oh okay, science is actually something that is useful'," Magdalena says.
The workshops first look at the history of Australia's First Peoples and how things that they created and used daily were the result of experimentation and included chemistry and physics.
"Jason talks about the cultural background and brings physics into it, and then I run a forensic workshop with them and show them how chemistry is very useful in solving crime for example," Magdalena says.
During Jason's component of the workshop, students have the opportunity to create their own Indigenous tools.
"Two things that he does is to, firstly, talk about Noongar language, so he gives a few examples of words and explains them. Then he talks about the boomerang, how the boomerang was thrown and some of the physics behind that," Magdalena says.
"He also talks about spears, how to make a spear and the physics of it. They also get to make an Indigenous whacker that was used for killing animals. They make glue from resin, charcoal and the most interesting ingredient is kangaroo poo!"
Following that Magdalena does her activities with the students, all of which are relevant to a forensic scientist's day-to-day job.
"I do fingerprinting using iodine and the students get to fingerprint their own thumb. We also do an activity where we had two victims and we have to figure out which victim has alcohol in their system," Magdalena says.
The 'Old Ways, New Ways' initiative is part of a bigger program called the National Indigenous Science Education Program (NISEP) and is currently funded by Higher Education Participation in and Partnerships Program (HEPPP). Magdalena and Jason would like to welcome any schools in WA who wish to get involved to contact Caroline Bishop, ECU Community Partnerships Adviser, [email protected].