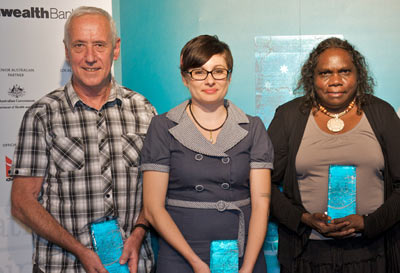 Kalinda Griffiths didn't realise anyone was taking notice of the work she was doing behind the scenes in Indigenous cancer, so she certainly didn't expect a call to say she was a finalist for NT Young Australian of the Year 2011. But no one was surprised when the dedicated health researcher won the prestigious award for her dedication to ensuring our mob get the best health services possible.
Born in Darwin of Yawuru, Indonesian and Welsh heritage, Kalinda has been doing important research into the survival rates for Indigenous cancer.
"I work behind a computer desk most of the time so I didn't know that people were aware of the work that I was doing," says Kalinda. "I do what I do for idealistic purposes but it was awesome to hear that people appreciated that and when I won the award my family was very proud."
Kalinda first became interested in working in Aboriginal and Torres Strait Islander health after witnessing the preventable illness and disease suffered by her immediate and extended family.
"When I was 19 my nanna passed away after several strokes and heart attacks," says Kalinda. "We also had someone suicide and had other health issues in my family. When I fell pregnant at 23 I said, 'I don't want this life for my children', so I took up a degree in biomedicine. I'd been told this was where the power was sociologically and I knew I needed that power if I wanted to make any impact on the issues affecting my people."
After spending years researching diabetes and other related illnesses, Kalinda has now turned her attention to cancer rates in our community – an area where very little study has previously been done. Now thanks to the work of Kalinda and her colleagues a new national study on Indigenous cancer is soon to be released.
"There were no national statistics on Indigenous cancer rates so in this study we decided to have a look at the outcomes or survival rates of people who are diagnosed with cancer. What we've found is that we have a higher mortality rate but also that we have higher incidences of smoking related cancers and preventable cancers – in other words cancers we can do something to stop. So we are speaking about cervical cancer, lung cancer and liver cancer – most of which you can prevent with screening and sexual health education and through health prevention interventions such as anti-smoking and anti-drinking messages."
Like most Aboriginal health professionals, Kalinda understands that health is not something that can be looked at in isolation from the whole of community.
"When it comes to health there's a tendency to put things into little boxes," says Kalinda. "We need to expand those boxes and have a platform to talk about those issues with each other because health impacts on everything else and everything else impacts on health. I guess what my push is with regards to what I'm doing is that I don't think that equality is about having the same things," she explains. "We want equal outcomes but we need to do that through equitable ways – equity in the sense that we are all different, we all have different values and different beliefs."
Kalinda has also been a strong voice for Indigenous women, particularly in the area of health and was selected to attend the Oxfam Aboriginal and Torres Strait Islander Women's Strait Talk Summit.
"Women are important to Aboriginal communities and it's really important we give women power in regards to knowing the health system and the services that are available. I know that my nanna was the woman in our family who knew things, so if we can continue that tradition and have a whole heap of women who are empowered then our health will be a lot greater. As women we have the ability to cross the boundary line and it doesn't matter where you're from, we can talk to each other."
Yarning about health can be just as important as research, according to Kalinda, who believes that it is important we all speak up when it comes to our health and health services.
"I feel passionately about this and if we keep talking to each other we can find out what the issues are in different areas and if we have any cross overs. When you speak about health everyone has a different definition of what that means to them. As a collective, if we say 'this is what health means to me' then we can start putting that into the services that are available. With my work, everyone's talking about evidence based findings – so once we have that information we have the power to make the changes and we can make a difference."