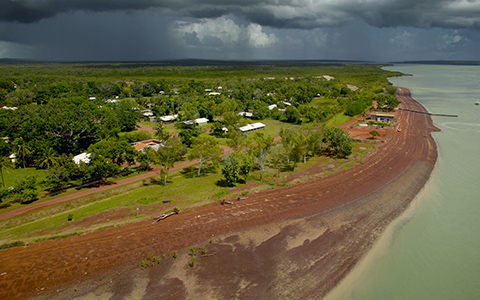 Aboriginal and Torres Strait Islander people will soon have the option to own their own homes within communities in Queensland with a new legislation expected to be passed in Parliament.
At the moment, Queensland's 34 Indigenous communities are held collectively, with all members retaining ownership of the land.
Queensland Premier Campbell Newman says that the new laws will allow them to change that if they wish, giving Aboriginal and Torres Strait Islander people the right to buy and sell their homes.
"What a proud day it will be as we correct the dispossession and the sins of the past," Premier Newman told Parliament on the day. "This initiative will remove the barriers to home ownership in Aboriginal and Torres Strait Islander communities."
Mayor Peter Scott of the Cook Shire Council, the largest in the Cape York area of Queensland and home to most of the Aboriginal and Torres Strait Islander communities, says that the legislation will open many doors for communities.
"I think it's an opportunity for them, if they want, to own their own houses and get into the mainstream economic cycle," he says.
"It's really apparent the difference between Indigenous land tenure and the normal land tenure is awfully frustrating for people out there."
The Hopevale community in Queensland has already been subdividing its land for business and homes. Peter says that it has been proving successful.
At meetings between other councils he has heard their cries of frustration surrounding what they can do with community land.
"What it does to us in terms of business, is letting us come into the mainstream and giving people equal opportunities. That's what I'm hearing from people up here all the time," Peter says.
"They don't want to be called communities; they want to be called towns. They want to be able to attract business in and if you go to the bank and say look I want to start up a business here but I don't have any acceptable tenure or security to offer you, well then you're pushing it up the hill from the outset."
While the changes can be beneficial, it will not be automatic and communities will have the option to opt into the changes.
"Different communities have their different social and cultural priorities and some will jump on board while others will be a bit more careful or a bit more cautious about jumping into it," Peter says.