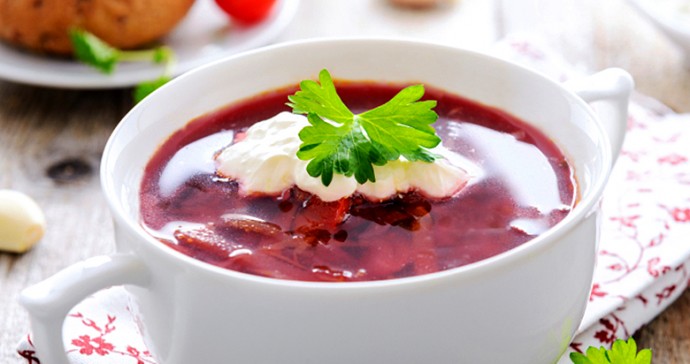 This soup is jammed-packed with good vegetables, like carrots, cabbage and tomatoes, but the main ingredient is beetroots. Beetroots are an excellent source of folic acid and a very good source of fibre, manganese and potassium. Happy cooking!
Ingredients:
3 tbsp olive oil
1 onion, finely chopped
6 small mushrooms, sliced
1 can condensed tomato soup
2 beetroots, grated
1 carrot, grated
1 potato, grated
2 tomatoes, chopped
5 cups water
1 stock cube, vegetable
2 bay leaves
1 cup shredded cabbage
Sour cream and pepper to serve.
Method:
1. Fry onion in 1 tablespoon of oil until soft, add mushrooms and sauté for a further 5 minutes. Stir in tomato soup and set aside.
2. In a large saucepan, sauté beetroot and carrot in remaining oil for 5 minutes. Add tomatoes and potato, cook for a further 3 minutes.
3. Add water, stock cube, bay leaves and cabbage. Simmer for 20 minutes.
4. Add onion mixture and simmer for a further 15 minutes.
5. Remove bay leaves. Serve with dollop of sour cream, freshly ground pepper and some crusty fresh bread.