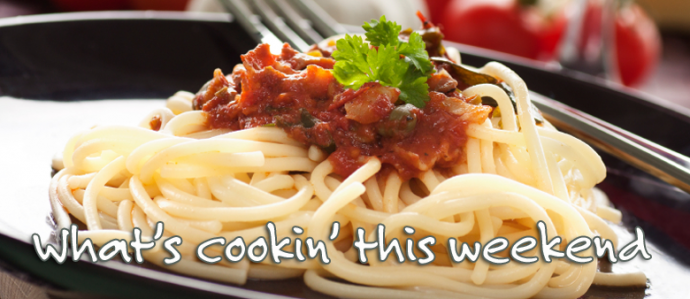 This week's recipe comes from the multi award winning, country music star, Troy Cassar-Daley.
"This is one of my Favs to make as I love pasta!" he says.
Ingredients
3 tablespoons extra virgin olive oil
1 onion—finely chopped
2 cloves garlic—finely chopped
4 anchovy fillets—chopped
1 small red chili—deseeded and finely chopped
2 teaspoons capers—rinsed and drained
8 pitted black olives—quartered
14 oz (420g) canned tomatoes—chopped
½ teaspoon sea salt
¼ teaspoon freshly ground black pepper
1 tablespoon finely chopped fresh, flat-leaf parsley
7 oz (200g) spaghetti.
Method
HEAT 2 tablespoons of the oil in a frying pan over a medium heat and cook the onion for 6 minutes, stirring occasionally.
ADD the garlic and anchovies and cook for a minute, stirring to break up the anchovies.
ADD the chili, capers, olives, and tomatoes, salt and pepper, and bring to the boil.
REDUCE the heat to medium-low and simmer, uncovered, for 10 minutes, stirring occasionally.
WHILE the sauce is simmering, cook the pasta.
DRAIN the cooked pasta into a colander and put the sauce in the bottom of the pot.
TOP with the hot pasta, parsley and reserved tablespoon of olive oil, and toss together gently to combine.
Variation: To make this meal more protein-packed you can add a 6 oz (180g) can of tuna (drained and flaked) to the sauce at the end of cooking to heat through.