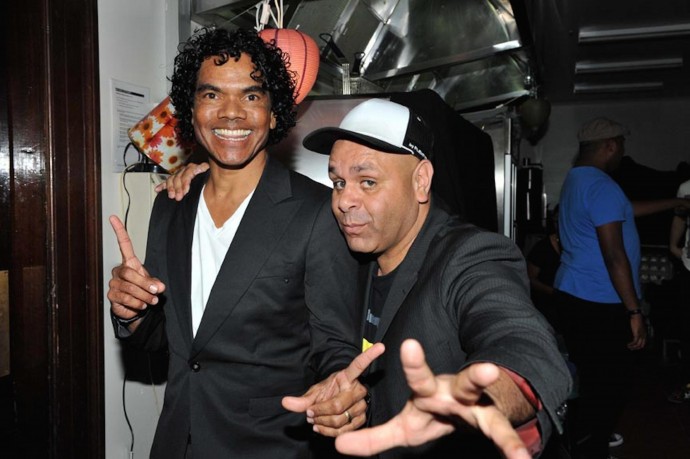 Past Deadly Funny participants Sean Choolburra and Kevin Kropinyeri are teaming up for the deadliest comedy bill ever.
'Double Up' is chock full of joyful stand-up, outrageous stories and ridiculously fun physical comedy. The show is guaranteed to offer a unique and hilarious insight into life as Indigenous Australians.
Melbourne Comedy Festival celebrates more than 60,000 years of jokes and hilarious story telling by the longest living culture on the planet with Australia's premier Aboriginal comedy program – Deadly Funny.
"Deadly Funny has allowed Aboriginal people to have a voice in a comedy world where they find that it's quite natural for us. Before this, we got 'you're characters, you're larrikins' and things like that but no one had ever actually taken it to the stage and the world," Sean says.
Sean Choolburra, the pin up boy of Aboriginal entertainment, is now one of the most recognised comedians in Australia.
Carving out his comedy career back in 2002 winning the RAW Comedy NSW State Final, his unique style as a rap singer, dancer, actor, hip-hop didge player and deadly storytelling skills, guarantee a hilarious insight into life growing up as an Aboriginal in Australia.
This year he is performing alongside Kevin Kropinyeri, a one-man whirlwind who will have you holding your sides laughing with the deadliest jokes.
Kevin made a splash in 2008 winning the Deadly Funny competition and hasn't looked back since. His rich background in state grade football and basketball, and work as a visual artist and youth worker have all provided the foundations that have led him to become the exciting new face of Black Australian comedy.
"This year it's going to be a little different, I'm working with Kevin Kropinyeri and we're doing a double act. I'm doing my set and he's doing his," Sean says, continuing that the audience can expect a range of comedy styles like stand up and collaboration in one.
"We're pushing the boundaries a little bit. There'll be some music in there… That's what makes it different."
Earlier this year, entrants of Deadly Funny participated in workshops run by Australia's funniest fraternity offering tips and advice on how to expand and develop performance techniques before the potential stars of tomorrow competed in heats held in the nation's capital cities to determine the National Finalists.
This weekend, Australia's best Aboriginal and Torres Strait Islander comedians will be brought to the festival to perform all together under one roof at Melbourne Town Hall.
The event will be hosted by Kevin Kropinyeri with performances from special feature acts Sean Choolburra, Shiralee Hood and Andrew Saunders this is guaranteed to be one raucous night. The comic that wins the Deadly Funny title will win a $2000 cash prize.
The Melbourne Comedy Festival aims to promote the development and appreciation of comedy across Australia.
Double passes to win
Are you in the Melbourne area and want to win one of four double passes to tomorrow night's show? Visit our Facebook page and send us a message in 25 words or less of why you would love to go.